Red Cross Continues to Help Wildfire Evacuees; Relocates Hood River County Shelter
Portland, September 13th.
The local American Red Cross in Oregon and SW Washington
continues to help people evacuated from their homes because of the Eagle Creek
Fire. Due to ongoing fire activity and at the request of Hood River County, the
Red Cross will be relocating its shelter to Hood River.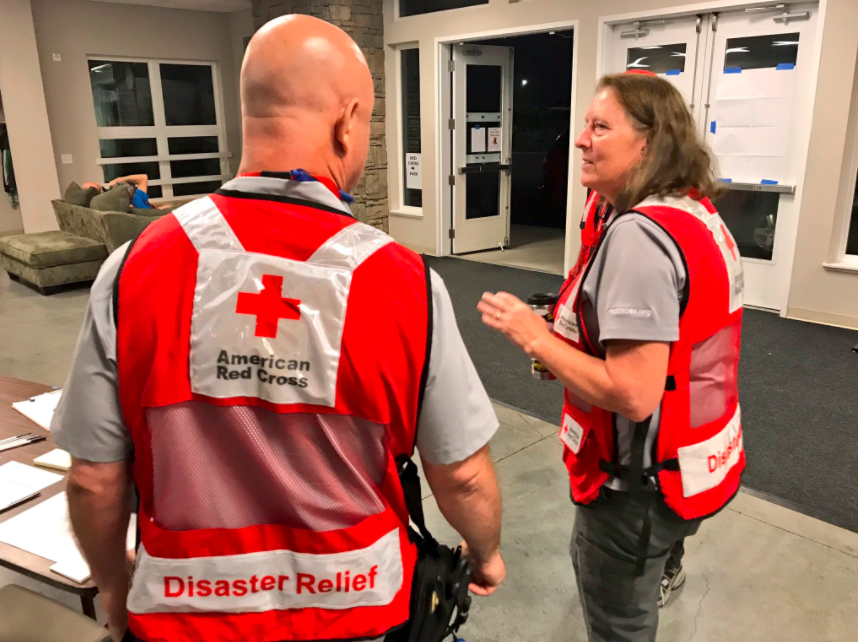 Red Cross responders are currently operating two wildfire relief shelters and
providing food, water, shelter, health services and emotional support for
evacuees.
As of yesterday, the Red Cross had distributed approximately 10,830 meals and
snacks at the two shelters since the start of the relief operation on September
3. Approximately 5,047 meals and snacks have been served at the Multnomah
County shelter and approximately 5,783 meals and snacks have been served at the
Hood River County shelter.
Shelter relocation:
The shelter located at Skamania County Fairgrounds Hedgewald Center in
Stevenson, WA is being relocated to the Hood River Assembly of God, located at
979 Tucker Rd., Hood River, OR 97031 after dinner this evening. All services
available at the Red Cross shelter at the Skamania County Fairgrounds will be
available to evacuees at the new shelter location, including pet sheltering
assistance. Evacuee RVs may park at Hood River Port Lot 1, 1000 E. Port Marina
Dr., Hood River, OR 97031 free of charge.
Relief shelters:
* As of last night, approximately 45 people were assisted at the Red Cross
shelter located in Multnomah County.
* As of last night, approximately 60 people were assisted at the Red Cross
shelter located in Hood River County.
How to Help Relief Efforts:
Donations: People interested in helping Red Cross relief efforts are asked to
please make a financial donation to the American Red Cross at redcross.org, by
calling 1-800-RED CROSS. Financial donations allow the Red Cross to be flexible
in the help we deliver and ensure that we can provide what disaster victims
need most during a relief operation.
Wildfire Relief: you can designate your donation to the "Local Red
Cross." Call 503-528-5634 to make a financial donation specifically to
"Oregon Wildfires."
In-Kind Donations: the American Red Cross may accept large quantities of
solicited in-kind products or services to support relief efforts. To inquire
about in-kind donations in bulk, call 503-528-5634.
About the American Red Cross:


The American Red Cross shelters, feeds and provides emotional support to
victims of disasters; supplies about 40 percent of the nation's blood; teaches
skills that save lives; provides international humanitarian aid; and supports
military members and their families. The Red Cross is a not-for-profit
organization that depends on volunteers and the generosity of the American
public to perform its mission. For more information, please visit
redcross.org/Cascades or find us on Facebook at Facebook.com/RedCrossCascades,
Twitter at @RedCrossCasc and find us on Instagram at @RedCrossCascades.