Red Cross Government Liaison Jon Grasle Recounts His Experience at the Eagle Creek Fires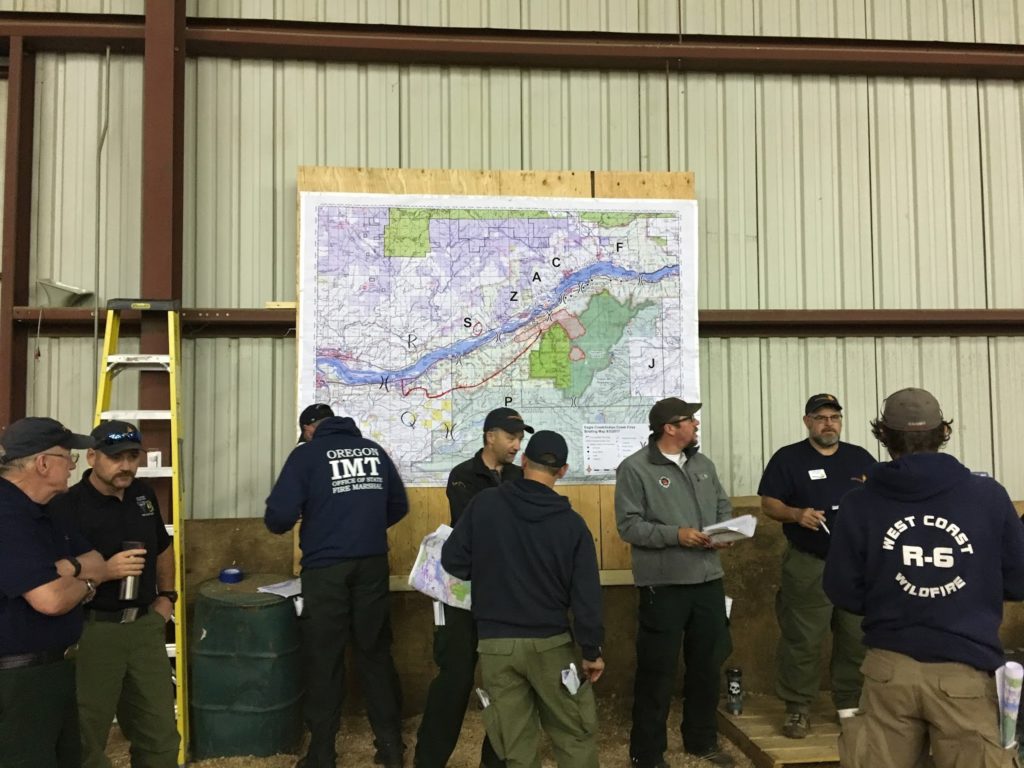 Early Morning Briefing
During last summer's unprecedented wildfire
season, I had the opportunity to work as a Red Cross Government Liaison at the
Eagle Creek fires. It's my job to work
with local agencies to handle logistics in situations like this. For instance, I participated in briefings that
included three fire departments in the Hood River community, along with police
and sheriff's officers, meteorologists, ODOT, hospital administrators, and
numerous other organizations that were all trying to hammer out the best way to
stop the fires and help residents. There
was also a special team of responders experienced in dealing with catastrophic
fires that arrived from Arizona to help.
I've been deployed to other fire scenes, such as the Alder Hotel fire
recently, and I thought I was ready to face the Oregon wildfires. But nothing prepared me for what I
experienced at the Eagle Creek fires.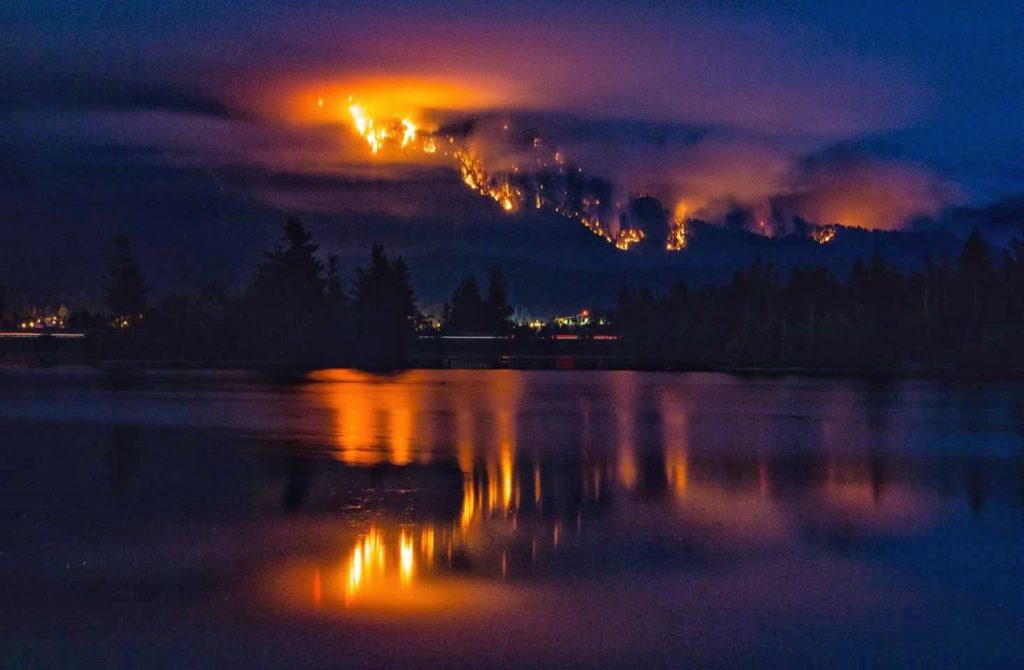 Beautiful but Deadly
The Eagle Creek fires would eventually consume
32,000 acres and engage nearly 1,000 firefighters, so you might think the most impressive thing I witnessed was disastrous fire. After all, it jumped the Columbia river. Then there was the choking smoke. And the wind that fanned the fires
dangerously close to Highway 84, which had to be closed for two weeks. These things were certainly dramatic.


But the thing I wasn't prepared for, and what I
will never forget, was the tremendous outpouring of help and support from the Hood
River community. It was humbling. Volunteers and donations arrived daily.
Individuals and businesses delivered enormous quantities of food, water,
toiletries, clothing, towels, books, pet food, supplies, and so on. The Red
Cross and first responder organizations fielded hundreds of calls from
additional individuals and businesses offering to provide meals, lodging,
transportation, nursing—anything they could do to help.


Everywhere people joined in to show their support. For instance, hikers along the Pacific Coast
Trail came to the shelter to help. There
were signs posted outside people's homes that read "We Love Our Firefighters!" Their human spirit was greater than the
devastating fires. The support was gratifying and kept us going.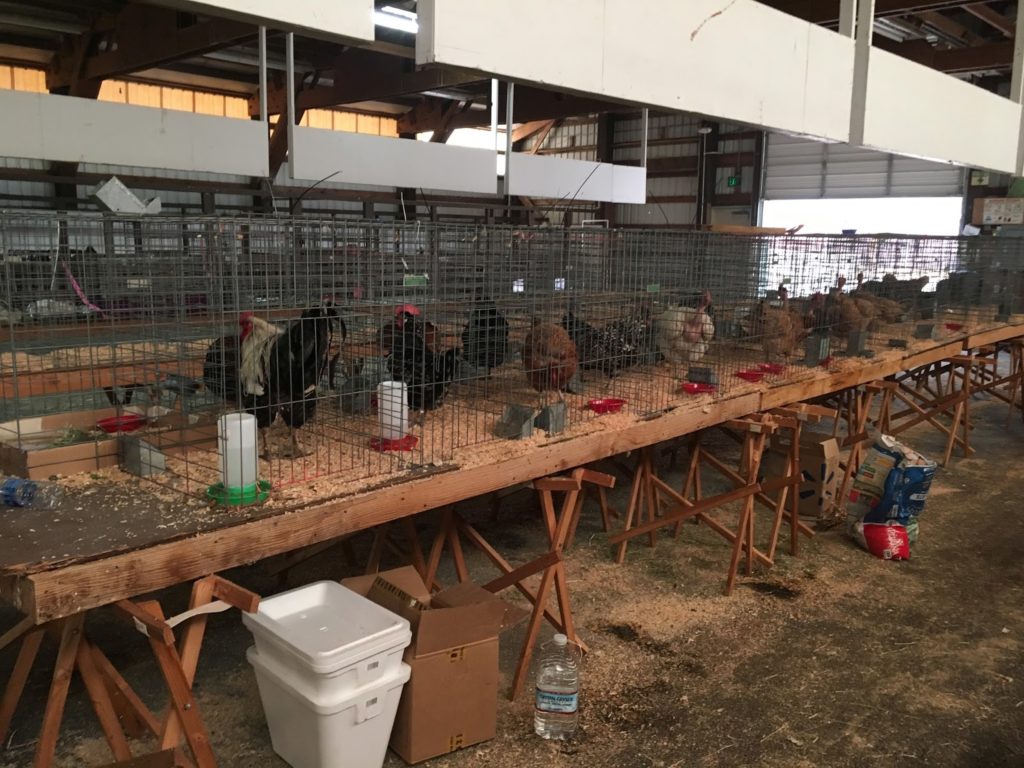 Chickens in the Barn


We had a barn set up adjacent to the Red Cross shelter
to house displaced animals: goats, chickens, turtles, cats, dogs. If it bleated, clucked, snapped, barked or
meowed, we found a place for it.


And
here again, volunteers demonstrated their compassion by feeding the animals and
keeping them clean. Volunteers provided 24-hour
care and supervision.


Businesses too were quick to jump in and
help. Walmart and Costco, for instance,
donated 20,000 bottles of water. It was tremendous, and we were
so grateful.
Sometimes the support came at unexpected times and
places. One day while I was on my way to
the Red Cross shelter, I stopped at McDonald's for lunch. The employee at the counter noticed my Red
Cross lanyard and thanked me for all that Red Cross was doing. He proudly
pointed to a sign they had posted that read "100% of your donation will go to
the American Red Cross Fire Relief Fund" and insisted on discounting my lunch
purchase.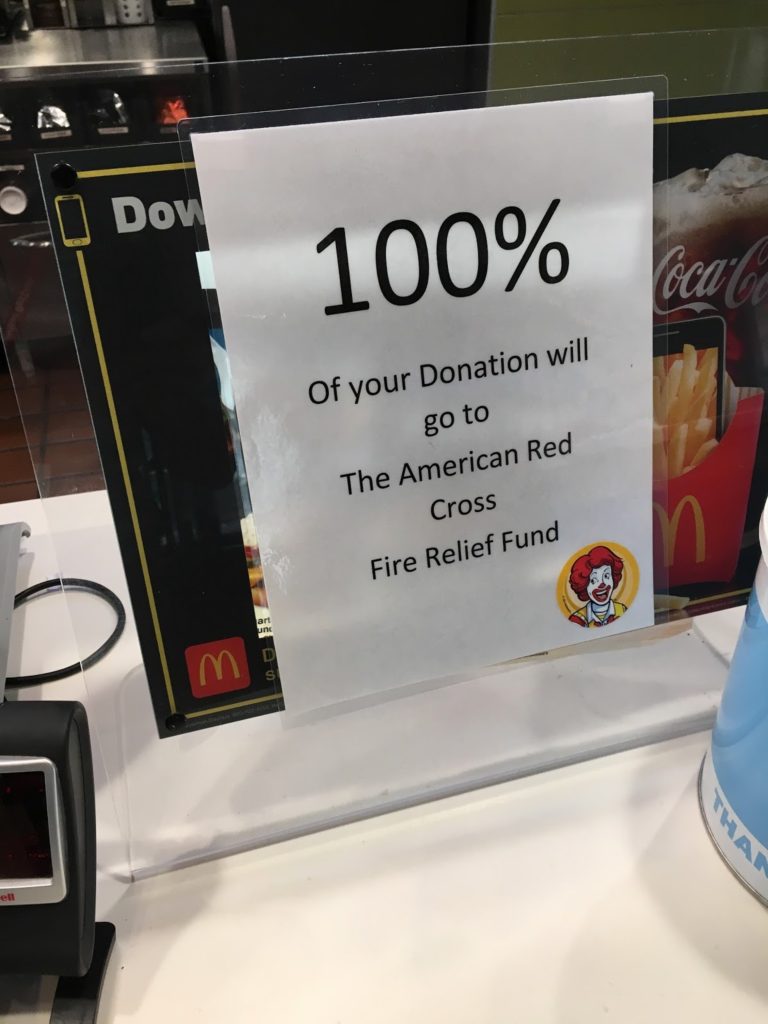 As I sat down to eat, the Assistant Manager
stopped by my table and said their franchise owner wanted to meet me and was on his
way. He arrived within minutes. The restaurant
owner thanked me for the work the Red Cross was doing and said he wanted to
help. I was flabbergasted when he
donated 100 gift certificates, redeemable for meals at any of the five local
McDonald's restaurants. Then he really
overwhelmed me when he gave me a very generous check payable to the American
Red Cross.


I thanked him for his kindness and generosity. I thanked the employees who were also making
donations to the Red Cross. When shelter residents received their gift
certificates, they were very appreciative as well. When you lose almost everything and are in
the middle of a life-changing crisis, something simple like a free meal at McDonald's
can lift your spirits and make a difference.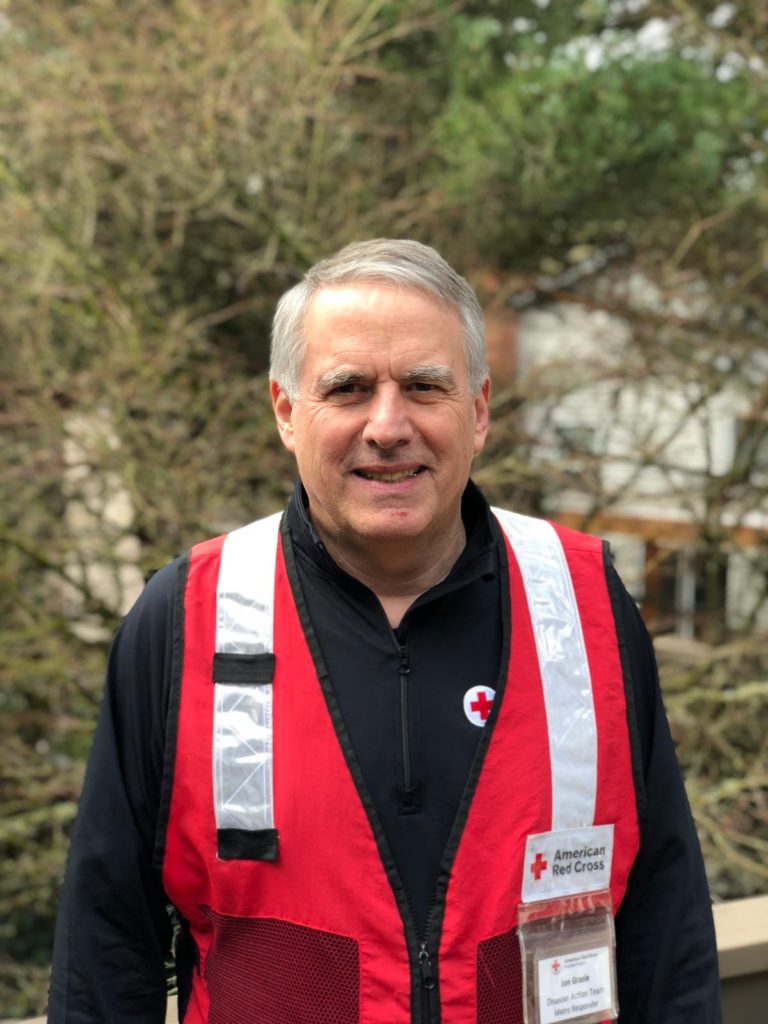 Jon Grasle, Red Cross Government Liaison








It took incredible effort from all the responders
to bring the fires under control and to stop the spread of destruction. All the responders deserve our praise, our
thanks. It may be that over time my memories of
the Eagle Creek fires themselves will fade, but I'll never forget the warmth and generosity of the Hood River community—from the dedicated and selfless responders to the outpouring of support from local citizens. And, in particular, the employees
and management at McDonald's. Thank you
all.