Annual Red Cross Month Celebrates the American Spirit!

"March is Red Cross Month, the perfect time to honor our
Red Cross volunteers, blood donors and financial contributors who bring hope to people
facing life's emergencies," said Cascades Regional Chief Executive Officer,
Candace Horter. "These individuals display our proud American spirit at work!"
This isn't the first time March has been declared Red
Cross Month. In fact, March has been designated
as Red Cross Month for more than 70 years.
It began in 1943 when Franklin D. Roosevelt issued the first Presidential
Proclamation: "I request that during that month (March) our people rededicate
themselves to the splendid aims and activities of the Red Cross."
Horter added, "This year, we recognize our nation's
heroes who in some way help their community by giving of themselves. We will also ask the public to be a hero by
making a financial or blood donation, taking a Red Cross class in First Aid and
CPR, or by volunteering."
Horter explained that it's easy to become a Red Cross
community hero: "Be ready for an emergency by creating a preparedness plan for
your home. Test your smoke alarms and
ask your neighbors to do the same. Sign
up to be a Red Cross volunteer or make a financial donation."
The Red Cross depends on local volunteer heroes to help fulfill its
mission. In fact, volunteers comprise 90
percent of the Red Cross workforce.
These dedicated people serve the community in four major areas.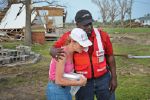 Disaster Response
The Red Cross Cascades Region deployed 362 disaster
responders in 2017. This is a 72 percent
increase from 2016. Our volunteers
responded not only to local home fires but also devastating flooding from
hurricanes Harvey and Irma and the massive wildfires throughout our region and
California. More than 1,100 families
were helped with shelter, food, and other necessities due to these disasters.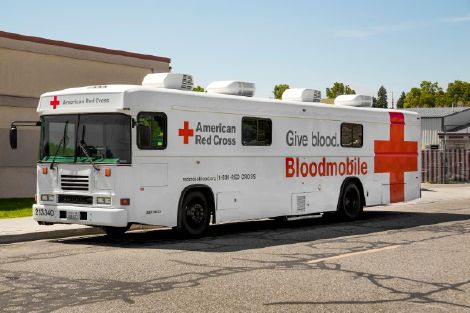 Blood Collections
Every two seconds, someone in this country needs
blood. This means nearly 14,000 units of
blood must be collected each day. Whole
blood and blood products (that is, platelets and plasma) help trauma and
accident victims as well as patients battling diseases such as cancer. In the Cascades region, over 1,250 pints of
blood were collected throughout the summer and into the fall of 2017. Approximately 3,700 lives were saved because
of these critical blood donations.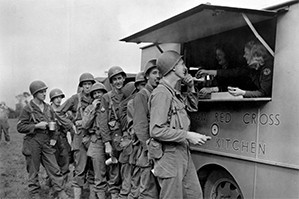 Military Support
The Red Cross provides 24-hour assistance to members of
the military along with veterans and their families—both at home and around
the world. Our volunteers provide
unflinching support to our armed forces serving in war zones, military
hospitals and military installations. For
more than 100 years, the Red Cross's Hero Care Network has relayed emergency messages from military families
to their loved ones deployed in the armed forces.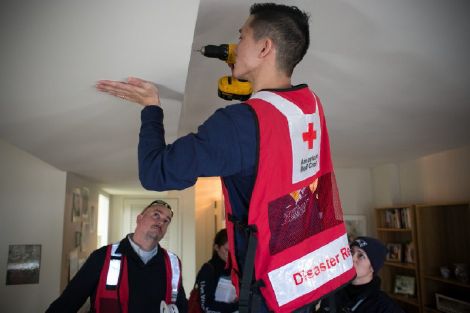 Smoke Alarms
We know that working smoke alarms cut the risk of death
from a fire in half. By joining with our
partner organizations across the country in our Sound the Alarm campaign, the
Red Cross has installed over 1 million free smoke alarms. In addition, in our Youth Preparedness
programs, we have been able to teach almost 1 million children what to do if a
fire occurs in their homes. The Sound the Alarm campaign encourages adults to
make fire escape plans for their homes and to practice it with family members. To date, more than 340,000 fire escape plans have
been created. And most important, more
than 285 lives have been saved.
In addition to these major areas
of support, Red Cross volunteers use their lifesaving skills to save people
from heart attacks, drowning, or choking.
They also assist in the vaccination of children around the globe against
measles and rubella.
The 2017 Presidential Proclamation says in part, "The American Red Cross has stepped into the breach, providing shelter, food, and emotional support to victims of natural disaster, war, conflict, and unexpected hardship. [It] is a miracle-working organization. To perform its vital and international roles, the Red Cross relies on volunteers and the support of the American people."
It should be noted, however, that the Red Cross is not a government
agency. As a nonprofit, the Red Cross relies
on blood donations and gifts of time and money from the community to do its
work. An average of 91 cents of every dollar the Red Cross receives is invested
in humanitarian services and programs.
This is
truly the American spirit at work!