Here's to Safe Grilling and Happy Splashing this Summer!
Summer is finally here. Now
that the sun is peeking through the clouds, it's time to fire up the grill and
tiptoe delicately into the pool. But before we put on our tank tops and
speedos, here are some safety reminders to keep the grilling and swimming
season fun for all.


Grill outside and away from any structures. Charcoal and
gas grills obviously are supposed to be used outside, but ensure they are at
least 10 feet away from any walls, overhanging tree branches, and other things
that could catch fire.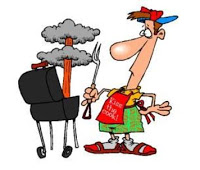 Clean your grill before and after use.
Grease and other buildup can create a larger flame than expected. For charcoal,
wait until coals are completely cooled before disposing of them. Grills can
stay hot for hours after use, so don't put anything flammable near them even
after the burgers are consumed.
Make sure your equipment is set up properly. For propane,
check to make sure all hoses are secure and there are no leaks. For charcoal,
use the recommended amount of coals and lighter fluid before lighting up the
grill. Never use gasoline to start or reignite a fire. Don't add anything
flammable to a fire once it's started.
Wear short sleeves or roll them up
when cooking on the grill. Use long-handled barbecue tools.
Don't leave the grill unattended or let children and pets play
nearby. Refrain from drinking alcohol while operating the grill.
Be prepared. As with any other
potential household emergency, have a plan ready if your grill catches fire.
Baking soda is the best bet to control a grease fire, while a fire extinguisher
works on other blazes.
First and foremost, never leave a child unattended in or
near water. This includes pools, Jacuzzis, lakes, rivers and oceans (and
billabongs if you happen to be in Australia).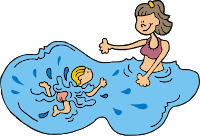 Teach children how to swim. The Red Cross
and other organizations such as the YMCA offer affordable, age-appropriate
swimming lessons. The Red Cross has an app that promotes water safety education
and helps parents and caregivers of young people who are learning how to swim. You
can download this app for free by searching the American Red Cross app store at
redcross.org/apps.
Designate an adult or mature teenager to act as constant
lifeguard. Make sure the lifeguard stands watch without distractions (phones,
books, etc.) and hasn't been drinking.
Enforce safety rules around the pool: no running on the
pool deck, no horseplay, no diving in the shallow end.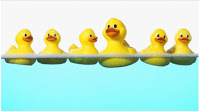 Always swim with a buddy; do not allow anyone to swim alone.
Especially as the weather starts to warm up, outdoor
swimming locales such as rivers and lakes may be much colder than the air
temperature. Even seasoned swimmers can experience shock when jumping into cold
water on a hot day. Test the water first before jumping in and provide all swimmers,
no matter how experienced, life jackets.
Become certified in CPR for both children and adults. You
can find CPR classes from the Red Cross at Our Class Programs.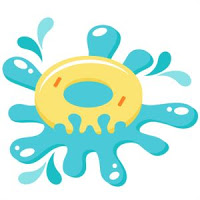 Scan your outdoor surroundings to locate
items that can be used to assist someone if the person is drowning or
struggling in the water. For instance, a long sturdy branch, an oar or a
fishing pole can be extended and used to pull someone to safety. If you are by
a swimming pool, the pole of a pool skimming net can be used. If the person is
beyond reach, throw items into the water such as a life jacket, kickboard,
beach ball, or an empty picnic cooler.
Keep a charged cell phone and first aid kit
handy in case of emergencies. Teach your children to call 9-1-1 in emergencies.
Ensure all pools and spas have compliant drain covers.
Install proper barriers such as fences (at least 4 feet
high with self-latching gates) or child-proof covers around and on your pool
and spa.
Don't forget the sunscreen!