Test Your Knowledge of Our Declaration of Independence!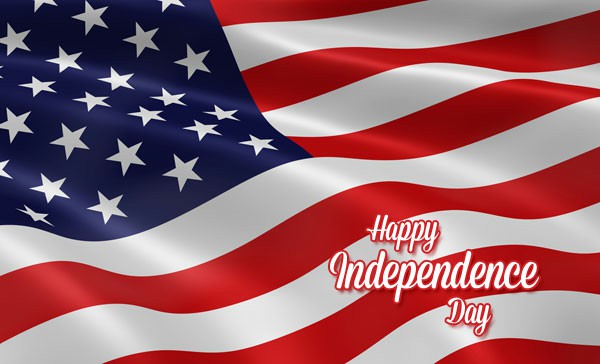 When the fireworks are over and you're feeling full after
eating too much barbecue, watermelon and ice cream, test your memory skills
with a few bits of trivia related to our nation's day of independence.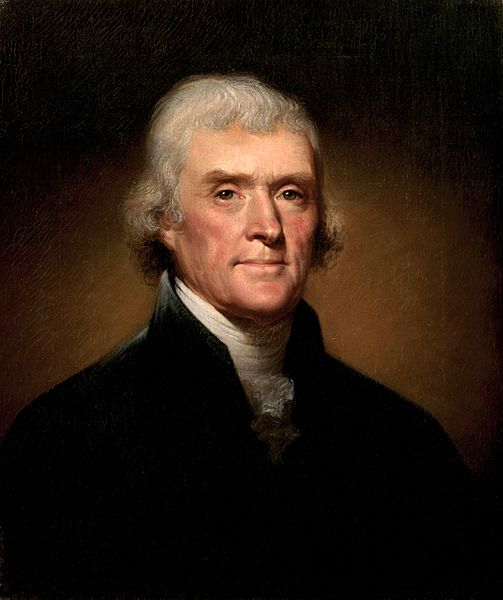 Who
wrote the Declaration of Independence?
Mostly,
it was Thomas Jefferson. On June 11,
1776, the Second Continental Congress appointed the Committee of Five to draft
the official document. The committee was comprised of John Adams, Roger
Sherman, Benjamin Franklin, Robert Livingston and Thomas Jefferson.

However, working the way so many committees
do, rather than have all of them work on the Declaration, they decided just one
person should do it: Thomas
Jefferson. After he completed the initial version, he gave it to Adams and
Franklin for review. They made a few minor alterations, and then the
Declaration was submitted to Congress. Congress approved the Declaration of
Independence on July 2, 1776. You can visit the National Archives website to
read the full
Declaration
of Independence
.
If
Congress declared our independence on July 2, why do we celebrate it on July 4? Because Congress kept tweaking the document!
They continued revising the Declaration until the early morning of July 4,
1776. But both dates were a good six to seven months later than many of the
patriots had hoped we would declare our independence.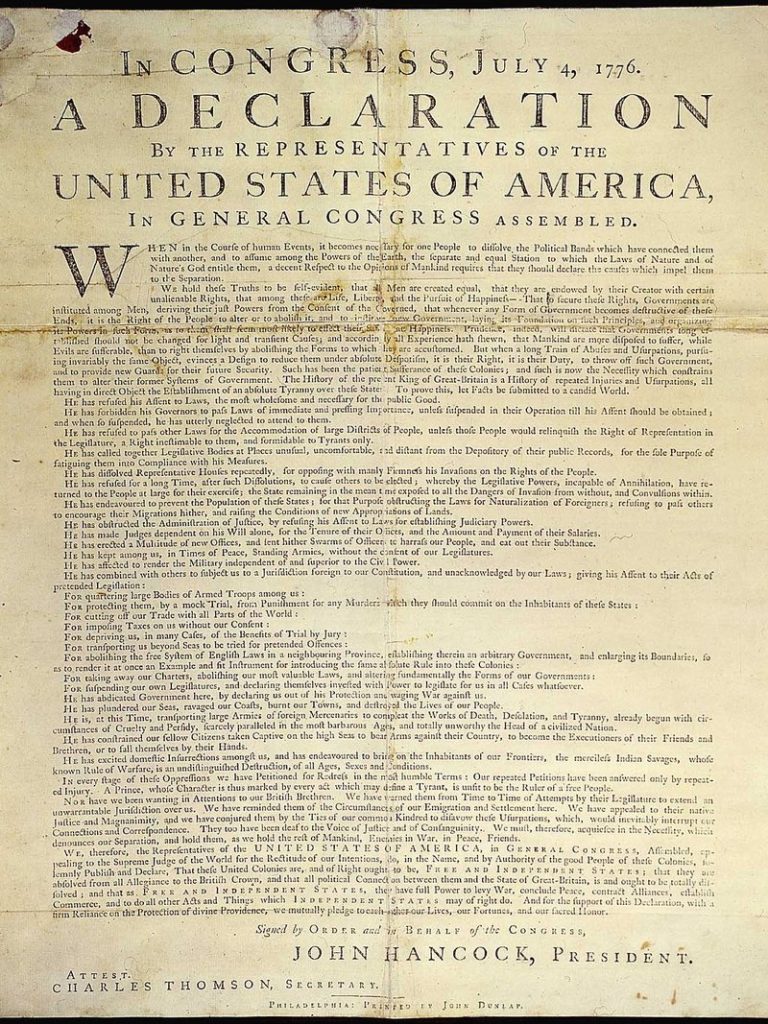 What is
a broadside? It is a printed document about the size of a
large poster. After Congress adopted the Declaration of Independence, they sent
the text to John Dunlap, a printer in Philadelphia. He printed about 200
broadsides of the Declaration which were circulated among the 13 colonies. At
New York Harbor, George Washington wanted a Declaration broadside for himself
to read out loud to his troops. The inspiring words incited a riot, and before
the end of day, a statue of King George III had been torn down, melted, and
turned into 42,000 musket balls for the fledgling American military.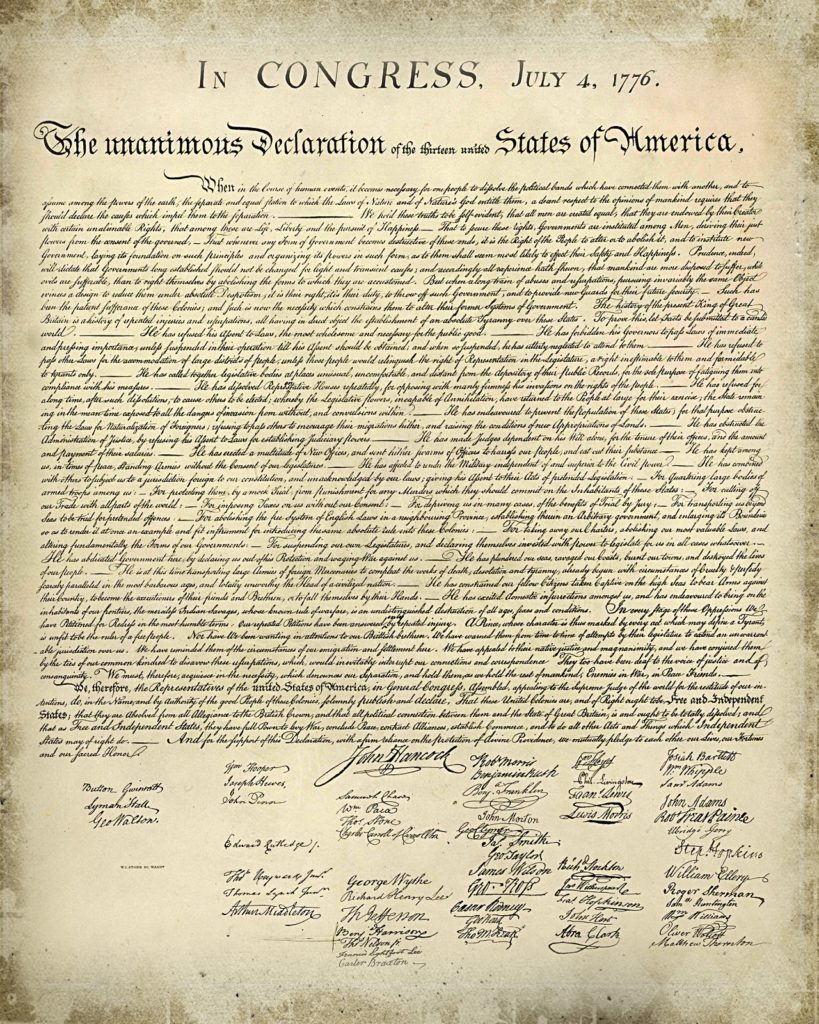 After text for the Declaration of Independence was approved
and printed, who wrote the parchment version of the document that was signed?
Historians
believe Timothy Matlack, a brewer from Pennsylvania, held this distinct honor.
He was noted for his excellent penmanship and patriotic zeal. The first to sign
the document was President of the Continental Congress, John Hancock. For
Hancock and the remaining 55 signers of the Declaration, s
igning
their names was an act of bravery. It meant they were personally declaring
treason against the king, and if caught, would be killed.
Is it possible to see the signed Declaration of Independence
today? Yes, it is under protected viewing at the
National Archives in Washington, D.C.
Are
any of the Dunlap broadsides still around? Today only 26 copies
are known to exist. Of these, 21 are owned by various American institutions, 2
are housed in British institutions, and the remaining 3 are owned by private
citizens.
Note:
One
of these private collectors is television producer, Norman Lear. If you were lucky
enough to be in Portland a few years ago, you may have seen it on display at
the Oregon Historical Society. His Dunlap broadside criss-crossed the country in
a traveling exhibition that gave citizens a chance to see this important piece
of our history.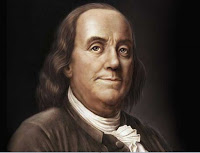 Who
was the oldest signer of the Declaration of Independence?
Benjamin Franklin at 70 years
old. Eleven years later, Franklin was a delegate at the convention that
produced the U.S. Constitution.
Is there really a
treasure map on the back of the Declaration of Independence? No, this is pure fabrication from a movie
called National Treasure. However, the back of the Declaration has the words
"Original Declaration of Independence dated 4th July 1776."
Historians believe these words were a label for the document, since it was
frequently rolled up while it was moved from city to city during the
Revolutionary War.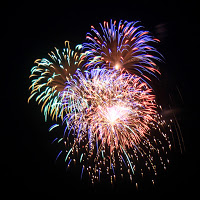 Why do we always have fireworks on July 4?
John Adams
declared in a letter that the day should always be remembered and celebrated
with "Pomp and Parade, with Shews [shows],
Games, Sports, Guns, Bells, Bonfires and Illuminations from one End of this Continent
to the other from this Time forward forever more." Early celebrations included
cannon fire, but mercifully, we don't have to worry about being in the line of
cannon shots anymore.
What
happened on July 4, 1826?
Thomas
Jefferson and John Adams both died, 50 years after the Declaration of
Independence. And another strange coincidence is that five years later on July
4, 1831, James Monroe, our fifth president also died.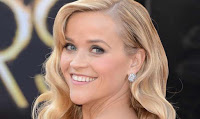 And finally,
which actress today can trace her roots back to one of the signers of the
Declaration of Independence?
Reese Witherspoon.

Her great, great, great (make that many
greats) ancestor was John Witherspoon. He was a noted Presbyterian minister in
his native Scotland before accepting the position of college president for a small
Presbyterian college in New Jersey. When he arrived in 1768, the school was
deeply in debt and badly in need of an updated library and scientific
equipment. Witherspoon donated 300 of his own books and began fundraising to
help the school out of its financial troubles and purchase the needed
equipment. Since then, the college has grown, and we know it today as Princeton
University.
Note:
Reese
Witherspoon appeared in a video that accompanied Lear's Dunlap broadside on
tour. She spoke about her connection to John Witherspoon.
The Red Cross wishes you a very Happy Fourth of July!