A Local Camp Prepare! Experience
On Saturday, August 4, people across the nation tested their disaster preparedness kits during the 2018 Camp Prepare! event.
The premise behind Camp Prepare! is simple: camp in your backyard or a campsite for one night using only the ingredients of your kit. Red Crosser Debbie Otenburg and her son Milo did just that and were happy to share what they learned with all of us.  
#####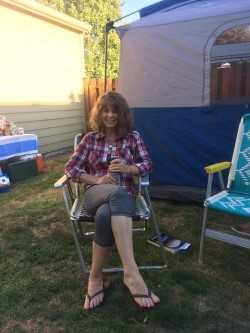 While my family is accustomed to camping more minimally in the great outdoors, we set up a family-sized tent for this event, figuring that this would be our tent of choice if our house was not able to be occupied.
Thinking practically about our food preparation needs, we also set up a large camping table with room for cutting, cooking, and washing our hands and dishes. Although we have the two-week supply of food and water recommended for Portland residents to ride out the aftermath of a Cascadia earthquake stored in our garage, we brought out only a few days' worth of supplies for this mock disaster.
There are different styles of preparedness, and each has its ups and downs. Many people buy a large supply of freeze-dried meals, which can be stored easily in a small space, are simple to prepare, and can last for decades. My style of preparedness is to store the same pantry items we use on an everyday basis in our kit.
I rotate the items into my pantry, replacing what I remove from the kit with fresh items every few weeks. This method takes up more space and requires more maintenance than storing freeze-dried meals, but it works for my limited budget.
I keep plenty of jars of flour, dried beans, grains, and sugar, each dated with when it was purchased, along with a few processed canned foods and plenty of seasonings. I often cook from scratch at home and figure that in the aftermath of a disaster, familiar foods could provide us with some needed comfort.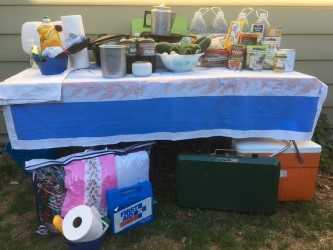 When we were deciding what to cook for our Camp Prepare! dinner, my son and I noticed one ingredient was conspicuously absent from our kit: vegetables!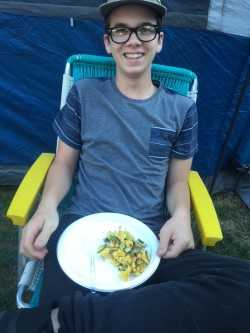 Fortunately, we had a few zucchinis and some rosemary left in our garden. So, along with eggs from our chickens, we feasted on delicious omelets for dinner. Earlier in the season I had the intention of canning homegrown vegetables, but intention without action would not feed us if a disaster occurred in colder months. The vegetable lesson was learned, however, and I have begun adding canned vegetables to our kit to prepare for a cold weather disaster.
Camp Prepare! brought other lessons as well, such as remembering to replace the matches after I remove them from our kit (we cheated once, going indoors to retrieve them to cook our dinner). While I remembered to pack our dog's food, toys, extra water, and crate, I forgot about his bowls.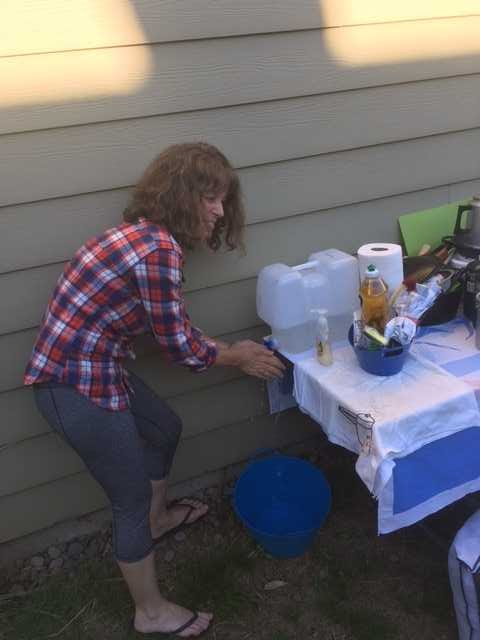 My attempt to minimize the square footage our kit occupied also resulted in some missing utensils. And I forgot to replace our camping dishes after our last outdoor adventure. Our Camp Prepare! experience provided us with a great opportunity to discover these missing items, check up on expiration dates, and reorganize our kit.  
I spoke with Aaron Crawford, Community Emergency Response Team (CERT) safety officer and instructor for Benton County, about our Camp Prepare! experience. Crawford said that these drills are valuable, but he warned that people tend to get tunnel vision when it comes to preparedness. That is, they prepare for certain events, but ignore others.
While he acknowledged that the Pacific Northwest is vulnerable to major earthquakes, he stressed that they are high-impact, low-frequency events.   "Fires are far more often the reason for evacuation," Crawford pointed out. "People should have a backpack, known as a 'go kit' or a 'bug-out bag' ready if they need to evacuate their homes.  They also need to practice using it in the wilderness.
Go kits should contain items such as freeze-dried food, energy bars, medical supplies, important documents, and a waterproof sleeping bag. But water is the number one concern."   Because the weight of a pack can be an issue, Crawford recommends that people purchase a collapsible water container,
known as a bladder, and a water filtration system to fill it.
Along with preparing and testing preparedness kits, Crawford also recommends that people get involved with the Red Cross or their local CERT program and that they take first aid classes.  
"The more involved you become, the better off you are in the aftermath of any type of disaster," Crawford said.  
#####  
The Red Cross provides classes in CPR, AED, first aid and others to train you for emergencies. And to learn more about preparing your emergency kit, visit the Red Cross website for a list of survival kit supplies, or visit the Red Cross Store to purchase ready-made kits and supplies.