Red Cross Home Heating Safety Tips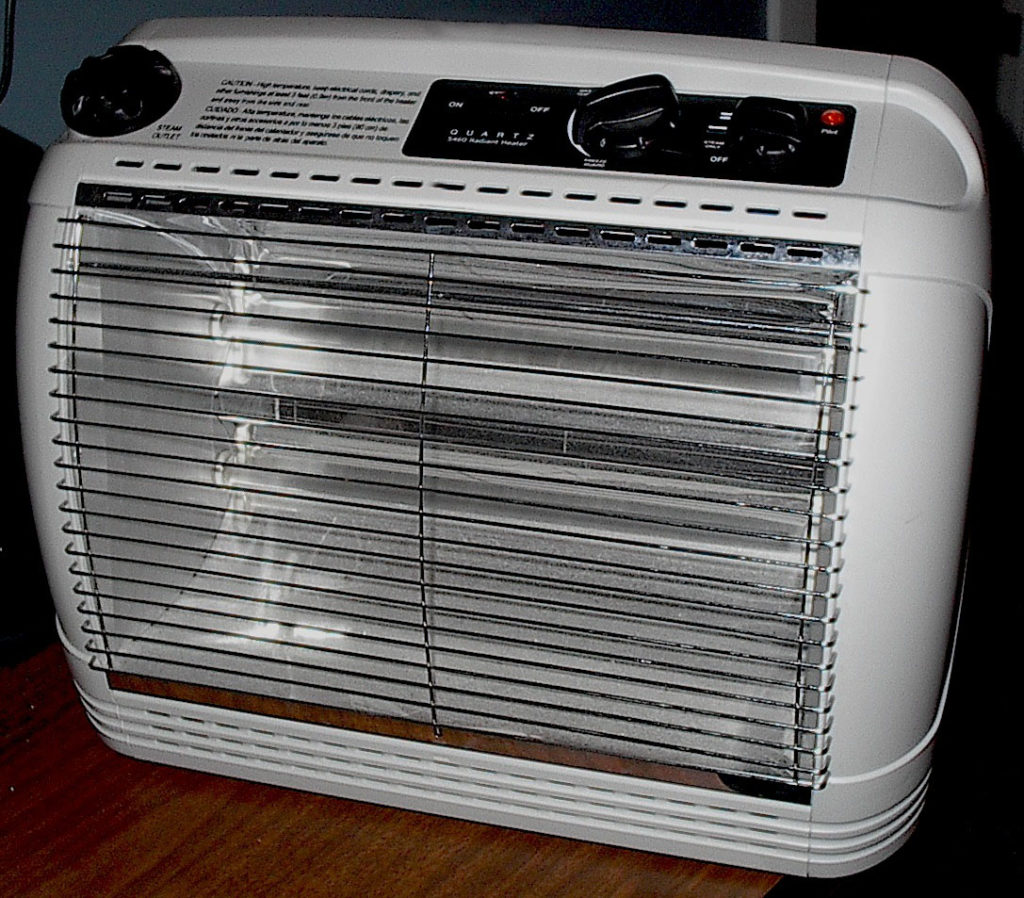 The number one cause of home fires in the Pacific Northwest during the winter is improper use of home heating appliances.  

"These fires are especially tragic, because they are so easy to prevent but can have devastating results," said Jim Walker, Oregon State Fire Marshal. "From the time the first spark ignites to the time it takes for an entire home to be engulfed in flames may be as short as two minutes."
By the time residents are aware of a fire in their home, they might have only seconds to escape. In fact, 560 Oregon home fires were caused by poor heating safety practices in 2017 alone, averaging almost two a day and resulting in about $5 million damage.
"The best way to fight fires is to keep them from happening in the first place by following a few fire safety practices," said Walker.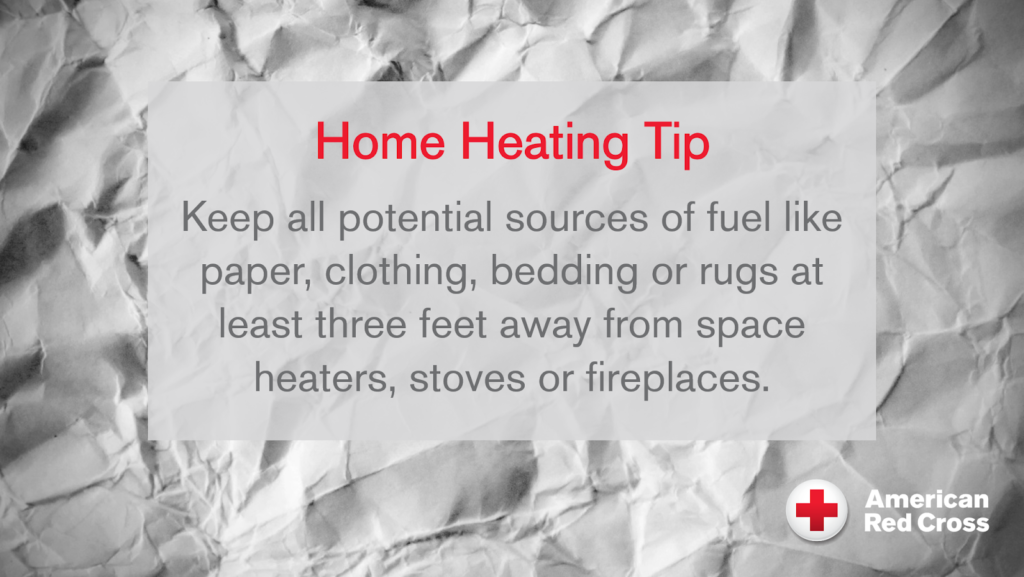 Surprisingly, just two unsafe practices account for almost all these fires. The first is not keeping a safety zone of at least three feet between heating sources and combustible items like paper, bedding, curtains, kitchen towels and clothing. The second is using portable space heaters that are not in good working condition or keeping them on while residents are away or asleep.
But there is a caveat: safety practices vary by the type of heating equipment you use. Review the list below for procedures that apply to your home.
Safety Procedures for Everyone
Keep a three-foot safety zone between heating sources and combustible items 
Make an evacuation plan in case of a home fire
If You Use Space Heaters
Keep a three-foot safety zone between heating sources and combustible items  
Only use space heaters with "tip-over" protection features 
Turn off and unplug space heaters when leaving the room or going to sleep 
Plug space heaters directly into wall outlets, instead of extension cords or power strips 
Put space heaters on stable, flat, noncombustible surfaces
Do not put space heaters where the electrical cable crosses doorways, walkways, or other high traffic areas
Check your space heater for damage like damaged cords, broken plugs, and loose connections, and repair or replace the space heater before using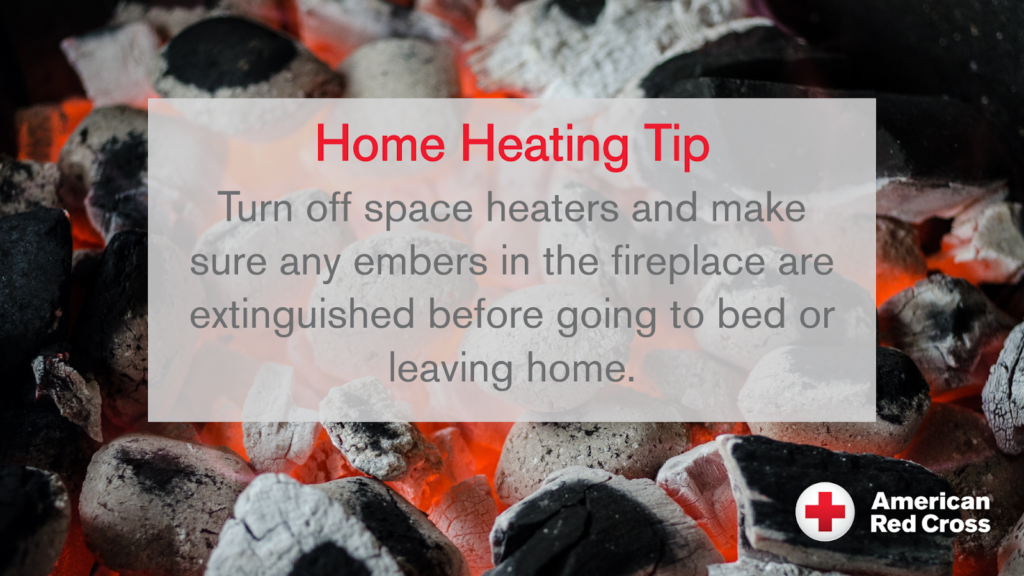 If You Use a Fireplace or Wood Stove
Keep a three-foot safety zone between heating sources and combustible items  
Have your woodstove or fireplace flue checked each year 
Use a fireplace screen to keep sparks from flying around your home 
Only use newspaper or kindling to fuel a fire 
If You Use an Oven or Stove Burner to Heat Your Home
 Don't! This practice is not safe 
 Never leave a lit stove or oven unattended 
By following these heating safety tips, you can help save your family, friends, pets, home, and yourself. Encourage other people to do the same, and you may be saving their lives and homes.
HOME FIRE CAMPAIGN Seven times a day someone in this country dies in a fire. The Red Cross has been working to reduce that number through its Home Fire Campaign, a multi-year effort to reduce the number of home fire deaths and injuries by 25 percent. Launched in October of 2014, the Red Cross and thousands of campaign partners have helped save many lives through the effort, as well as installing one million smoke alarms in homes across the country. Here in the Cascades region, the Red Cross has installed more than 23,000 smoke alarms free of charge since 2014.
If you live in Oregon or Southwest Washington and would like to sign up for a free smoke alarm installation, fill out a form at redcross.org/GetAnAlarm, call 503-528-5783 or email preparedness@redcross.org.
*In Oregon, the Home Fire Campaign is in partnership with the Office of the State Fire Marshal.