New Portland Volunteer Finds Passion In Helping
Since September 2018, Portland, Oregon, resident Jennifer Dotson has deployed to three separate disasters and is still asking for more.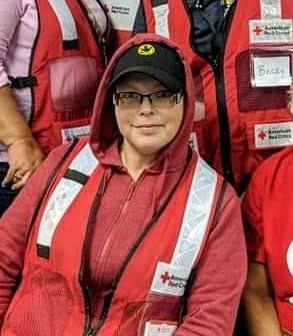 First, she went to Wilmington, North Carolina, to help people after Hurricane Florence struck the southeastern U.S. She was home for merely six days following that deployment before she rushed to Point St. Joe in Florida to aid in the Red Cross relief effort following Hurricane Michael.
Again, her return stay at home was short, just seven days, before she was
deployed to a third disaster site—Paradise, California, the site of the devastating Camp Fire.
Dotson's enthusiasm was not dampened by the quick turnaround between disasters.
"I'm ready to go out again!" she said. "I just feel like I am making such a difference."
Dotson's passion for volunteering for the Red Cross began when she was a child, and her father was a volunteer disaster responder for the organization.
"It's in my blood!" she said.
On her first deployment working as a disaster relief volunteer following Hurricane Florence, Dotson worked at a Red Cross shelter in North Carolina.
"I was going in as a brand new volunteer and started out as a shelter worker," she said. "Before my first shift was over, I was promoted to shelter supervisor!"
After Hurricane Michael made landfall in Florida just weeks later, Dotson was deployed again as a shelter worker, eager to build on her initial deployment experience. However, working to provide relief in the aftermath of Hurricane Michael presented new challenges.
"The first time I experienced truly serious and widespread damage was after Hurricane Michael," she said. "Training doesn't prepare you to see that type of devastation. It can be a very emotional experience."
On her most recent deployment to the Camp Fire in Northern California, Dotson served as a reunification worker, helping to connect people with their missing loved ones.
"Our team got a list from the Butte County Sheriff's department of Elderly Welfare Inquiries (EWIs), the people who were our top priority," she said.
An EWI is initiated when someone files a report with the sheriff about a missing elderly person. In some cases, the inquiring individual has been out of contact with the missing person for more than ten years, so there is little information to work with. It turned out that many of the people her team found had no idea they were even on a missing person's list.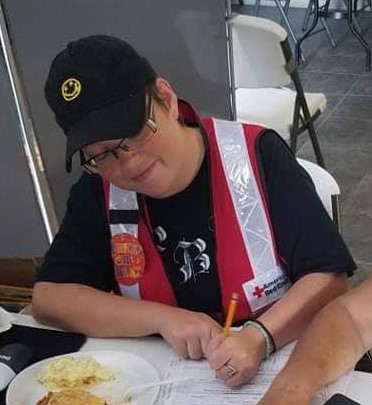 Regardless, Dotson and her team searched vigorously for the missing people. First, they checked hospitals and walk-in clinics. Then, they checked all the rental housing between Redding and Sacramento, a distance of about 150 miles. The effort paid off. She proudly reported that the team whittled down the missing persons list from nearly 1,300 individuals to just
two.
"It was amazing to be able to bring that comfort to so many people who had already lost so much," she said.
After three successful deployments Dotson has been overwhelmed by the feeling of satisfaction of positively impacting so many lives. Her volunteer work has even left an impression on many people closer to home.
"I've had a lot of people ask me how to get involved since I came home," she said. "I tell everyone who is  considering volunteering for the Red Cross to try it! Helping others in their time of need is the most fulfilling thing you
can do!"