Red Cross Volunteers Bring Comfort and Food to Stranded Amtrak Passengers
Retired deputy sheriff and Red Cross disaster volunteer Kim Phelps was at the Dexter, Oregon, Amtrak train station just 20 minutes after learning that help was needed for the arrival of 183 passengers who had been stranded aboard the Coast Starlight for nearly 48 hours.  
"I'm a lead Red Cross disaster response worker and was on call anyway, although I wasn't expecting a call," Phelps said. "Tuesday we were snowbound here. A lot of volunteers couldn't get out. We had 12 inches of snow. We aren't used to that."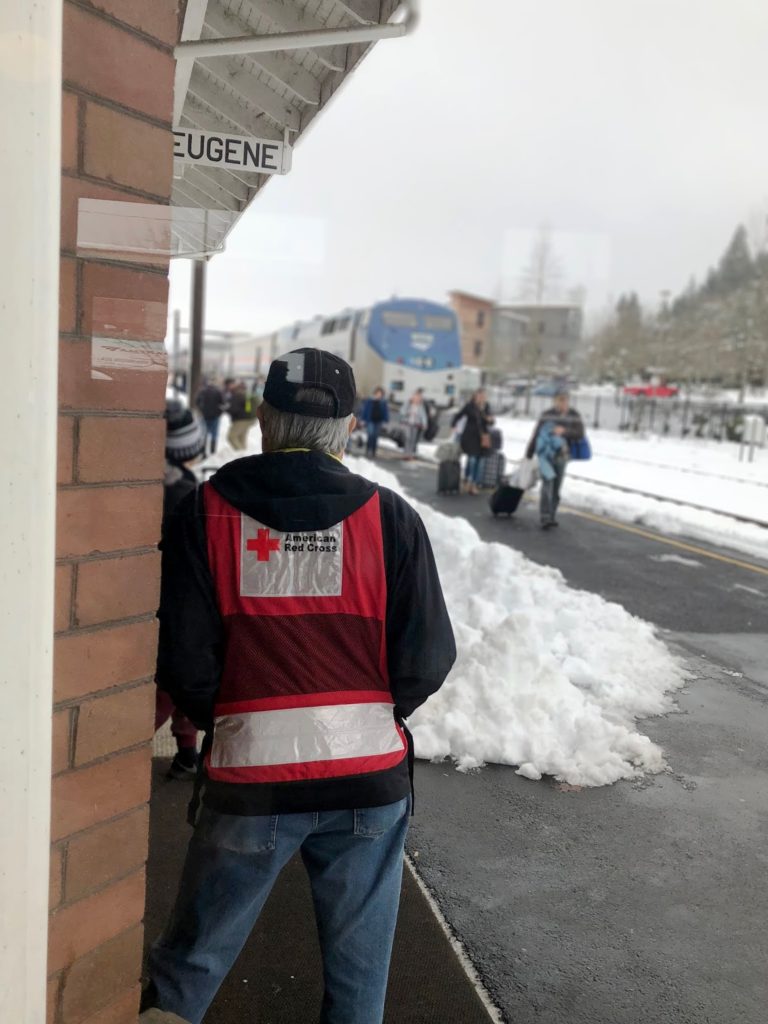 In spite of the conditions, Phelps made it to the station and met three other volunteers and their Red Cross manager. Two of the other volunteers brought fruit, pastries, string cheese, bagels, coffee and water. 
"Frankly, I didn't think the passengers would be all that enthusiastic about pastries, fruit and coffee," Phelps said, "but they scarfed it all up! They were so grateful."    
In fact, while the passengers were stranded, food had started to run low on the train, which originally departed from Seattle and was bound for Los Angeles. Heavy snow had driven trees and large limbs onto the train tracks.
The Amtrak engine ran afoul of these obstacles, and a commercial train engine was called in to tow the passenger train back north. News reports indicated the blockage on the tracks spread for miles, and the crew had to work to clear the tracks foot by foot. There was one street that might have allowed the passengers to get off, but that street was closed due to heavy snow accumulation and felled tree limbs.
The result: a trip that would normally take a few hours wound up taking more than two days.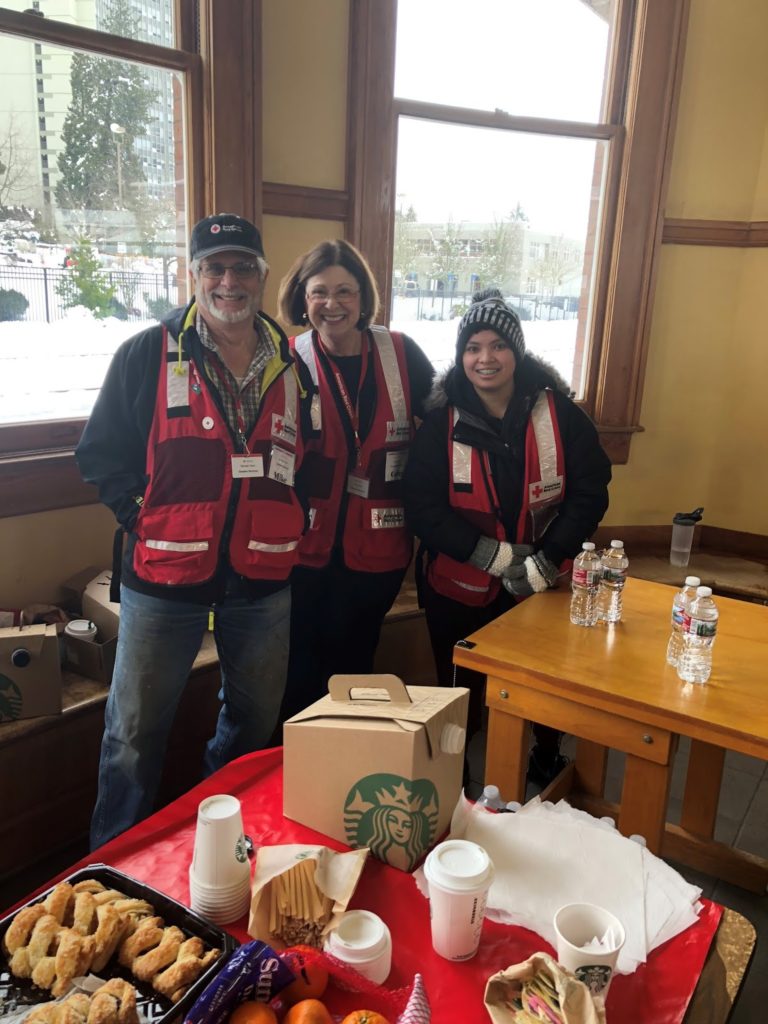 Not surprisingly, the passengers were relieved to get off the train in Eugene, although their spirits remained high. Many shared with news outlets that they appreciated all that Amtrak had done for them while they were on board and that the Red Cross had welcomed them with food and warm smiles. Even a station security agent thanked Phelps and the other Red Cross workers.  
For Phelps, this was a significant event, but only one of several that she has responded to as a Red Cross disaster worker. She explained that her local Red Cross offers two shifts a day, or 14 a week, and she is usually signed up for nine of them.
During her five years as a Red Cross volunteer, Phelps has helped many people affected by disasters. Prior to becoming a Red Cross volunteer, she was a deputy sheriff and police officer on patrol and worked in jails in Los Angeles and  Eureka, California, and Lane County, Oregon.
 Phelps summed up one difference between her 23 years in law enforcement and her time volunteering with the Red Cross, especially helping the Amtrak passengers:  "to have people be happy to see me is wonderful."