Camping and cooking in the Northwest – These Red Cross tips will help keep the fun safe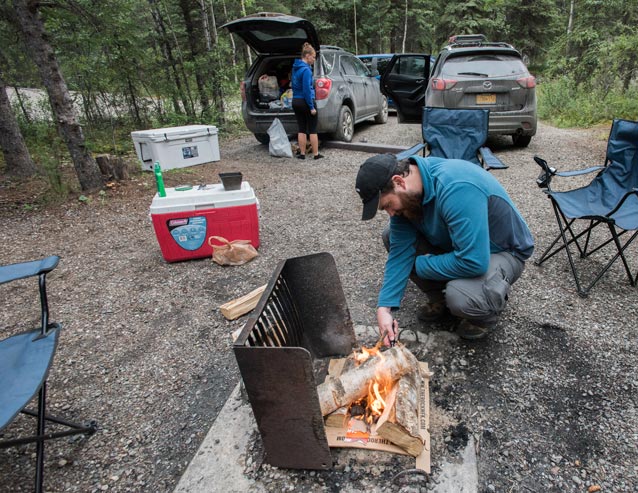 Can you hear it?

The sounds of sizzle on grills all throughout the region. As traditional as hot dogs and burgers, this weekend families throughout the Pacific Northwest are gearing up to get outside and enjoy the great outdoors.

With Memorial Day and the unofficial start of summer just around the corner, people are packing up the car and preparing for their summer activities. Summer in the PNW means enjoying road trips, camping and cookouts. But, along with these summer activities comes an increased risk of accidents and fires. To keep safe throughout the summer, the Red Cross Cascades Region offers the following safety tips:
CAMPING
Know the level of ability of the people in your group and the environment around you. Plan accordingly.
Sprains and falls are some of the most common misfortunes travelers may face. Take a Red Cross First Aid and CPR course and download our free First Aid App so that you will know what to do in case help is delayed.
Share your travel plans and locations with a family member, neighbor or friend.
Bring nutritious food items and water.
Bring light-weight clothing to layer.
Mosquitoes biting? The first step is to prevent mosquito bites. If not, use an over-the-counter product to reduce the itch and urge to scratch.
TRAVEL SAFELY
Be well rested and alert, use your seat belts, observe speed limits and follow the rules of the road.
Put a first aid kit and emergency supplies in each of your vehicles. Our Prepare! Guide has a list of suggested emergency kit items you'll want to include.
If you plan on drinking alcohol, designate a driver who won't drink.
Give your full attention to the road.
Use caution in work zones.
Don't follow other vehicles too closely. Clean your vehicle's lights and windows to help you see, especially at night.
Don't let your vehicle's gas tank get too low.
GRILLING SAFETY
Set up the grill a safe distance away from trees, buildings, and other things that can burn.
Keep a three-foot safe zone around grills, fire pits and campfires.
Wear short sleeves or roll them up when cooking on the grill.
Use long-handled barbecue tools.
Never leave a burning grill unattended.
Let ashes cool for 72 hours, then add water. Spread ashes into dirt or dispose slurry into a garbage can.
The Red Cross wishes you a wonderful and safe summer!