Wildfire season is rapidly approaching; these Red Cross tips can help you prepare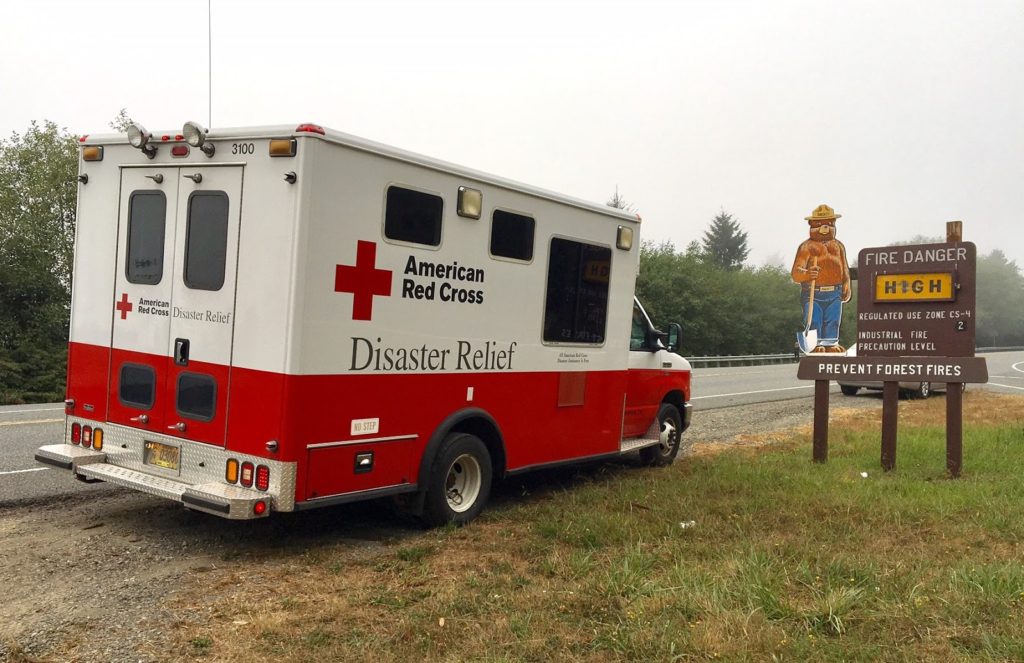 The numbers are staggering.
In 2018, 5,600 outdoor fires in Oregon charred more than 700,000 acres, injuring 56 people and killing six, setting a five-year record for the number of injuries and fatalities, according to the Oregon Office of the State Fire Marshal. At least half of these fires were started unintentionally, making prevention practices a primary tool we can all take to limit wildfire activity near our homes.
To encourage people to put fire prevention practices in place, Oregon Governor Kate Brown joined with governors from nine other western states to proclaim May as Wildfire Awareness Month, launching wildfire safety education efforts throughout the Pacific Northwest.
"It is incredibly important that all Oregonians work with their neighbors to plan and prepare for fire season now," said Kristin Babbs, president of the Keep Oregon Green Association, a partner of the Red Cross Cascades Region dedicated to preventing wildfires. "Educating yourself about how fires can get started will be key in reducing accidental wildfire ignitions this summer. Simple and inexpensive prevention strategies can make your home, family, and community much safer."
Preventing wildfires is a community effort, but it starts with individual families and households. The Red Cross Cascades Region has partnered with several other local agencies to help spread the word about wildfire safety all throughout the month of May. Here are some steps the Red Cross encourages you to talk with your family members about as a great first step toward fire prevention this wildfire season:
Campfires and Bonfires
Only start a campfire or bonfire in an appropriate fire pit, cleared of all vegetation and ringed by stones.
Never leave a fire unattended, such as overnight.
Always make sure your fire is completely doused with water and smothered with dirt before leaving.
Don't start a fire on a windy day. Save it for another time.
Smoking
Dispose of used matches and butts in a closed container or cup of water.
Keep lighters and matches out of reach of children.
Yard Waste or Rubbish Burns
Only burn yard waste or rubbish in a 50-gallon drum or fire pit (see campfire section for fire pit tips.)
Never leave a fire unattended.
Always make sure your fire is completely doused or smothered with dirt before leaving.
Don't burn yard waste or rubbish unless it's allowed by your municipality.
Don't burn anything highly combustible, including paper or fabric soaked in oil or gasoline.
Don't start a burn on a windy day. Save it for another time.
Fireworks
Have a bucket of water, garden hose or fire extinguisher handy. Consider wetting down the grass and other vegetation before lighting your fireworks.
Never let children use firecrackers, sparklers or fire crackers unsupervised.
Don't light fireworks on windy nights.
Douse used fireworks with water to make sure they are completely extinguished.
Cars, Tools & Other Combustion Engines
Don't park a hot car or other machine in dry grass.
Don't allow gasoline or motor oil to spill on grass or other vegetation.
Tractors, off-road vehicles and equipment being used in wooded areas, such as chainsaws, must have spark arrestors.
Set a date on your calendar this month to work with your family members to implement these steps in your home. You can also take your prevention activities a step further and encourage your friends and neighbors to do the same!