Cascades Region FAST Program Ready to Respond at Major Sporting Events
Story by Dori Cooper/Red Cross Cascades Region
Since 1979, the American Red Cross has been providing first aid services at public festivals, sporting events and concerts.
The Red Cross community program, First Aid Services Team (FAST), in Eugene, Oregon is one of the last of its kind in the country.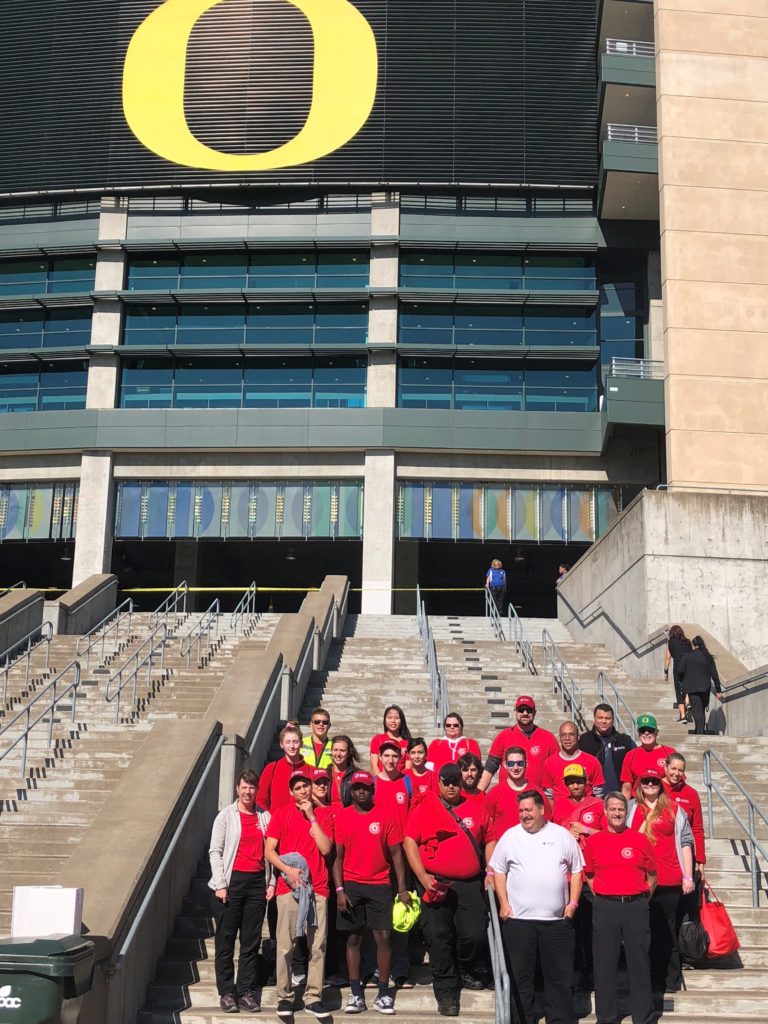 FAST volunteers are trained in both Red Cross first aid and cardiopulmonary resuscitation (CPR) and are ready to help respond to an emergency situation. In addition, the program provides great learning opportunities as emergency medical technicians, nurses and retired firemen can serve as volunteer mentors.
Home to the University of Oregon and often considered "TrackTown USA," Eugene is home to some high profile events.
Supported by Carisa Hettich, Executive Director of the Southwest Oregon Chapter, FAST volunteers have participated in the 2016 Summer Olympic Trials for Track and Field. They also support first aid stations throughout Autzen Stadium, during University of Oregon home football stadium.
FAST volunteers recently provided support during a Garth Brooks concert at Autzen and will also support the upcoming 2020 Summer Olympic Trails and the 2021 World Track and Field Championships both at Hayward Field.
"FAST is ideal for students contemplating a career in medicine or looking for community service opportunities," Hettich said.
"High school students enjoyed it so much, that they often continued on as college students."
The FAST program also allows nursing students at Lane Community College to fulfill their volunteer hours and gain critical hands-on experience with patients.
One volunteer, Peter Helms, took a Community Emergency Response class which led to his interest in First Aid and Disaster Preparation.
Three months before the Olympic Trials for Track and Field took place in 2016 at Hayward Field in Eugene, Helms started volunteering with the Disaster Action Team (DAT).
From there, he was introduced to the FAST program and participated with a variety of volunteers from the Cascade Region of the Red Cross.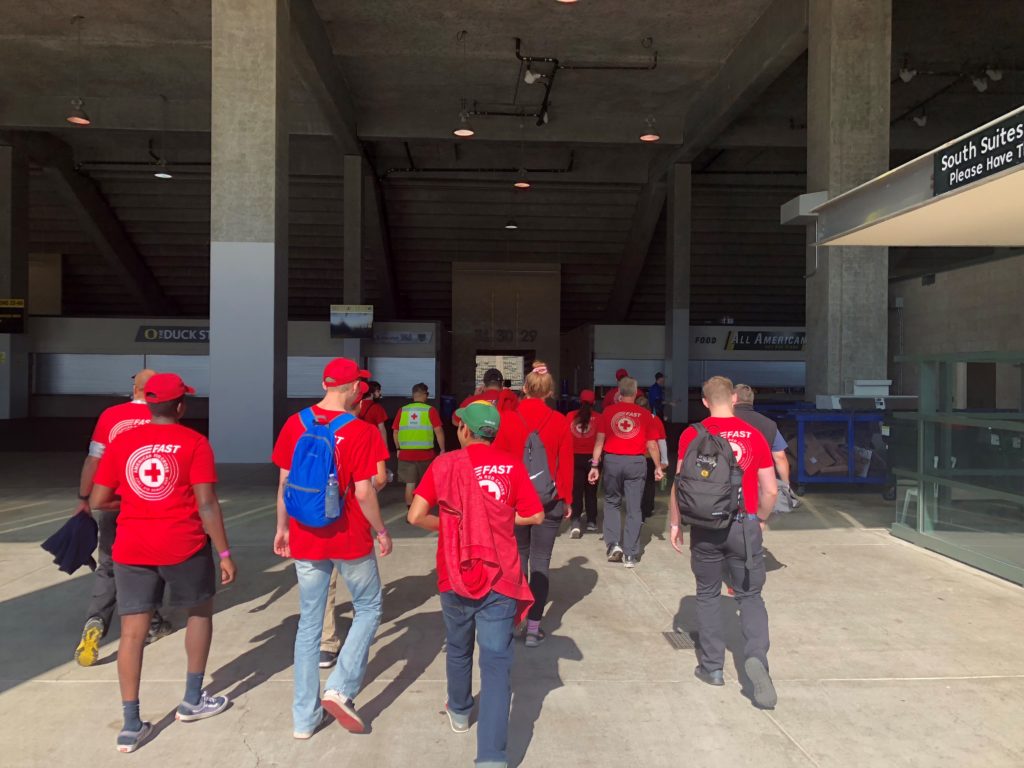 During the Olympic Trials' eleven day event, Helms and other FAST volunteers gave out band-aids and ice packs. They also bandaged wounds and irrigated eyes irritated by sunscreen.
In addition to needs for minor first aid, the FAST team encountered many medical emergencies. (Emailed Helms for specifics).
Helms also volunteered at the Battle of the Bands at Autzen Stadium in Eugene in 2017 and again in 2018. Medical assistance provided included bandaging an older woman who had fallen, providing a splint for a suspected broken thumb, stopping the bleeding for someone who had a bus door fall on his nose and supporting a person with a racing heartbeat until paramedics could arrive.
As an example of just how important the FAST team can be, Helms volunteered at an event at Eugene's City Fest held at PK Park in 2018.
The temperature during the event that day rose into the 90's. Local volunteers from the Eugene-Springfield area treated many cases of dehydration, heat exhaustion, as well as a case of heat stroke. Paramedics transported one person to the hospital.
It was FAST volunteers who helped provide water or Gatorade to many others to help them stay hydrated. Many patients were evaluated and assessed.
"If we ever have this event again," said Helms, "we would like more volunteers."
"FAST provides the opportunity to be at a variety of events for free," Helms continued. "If you are interested in healthcare, you'll get experience (to see if the healthcare field is for you)."
After starting with the FAST program, Helms became licensed as an Emergency Medical Responder in the state of Oregon.
FAST volunteers come from a wide variety of backgrounds, ages and professional experiences. The Red Cross is looking for these to join their team:
First Responders
Lay Responders
Emergency Medical Technicians
Paramedics
Nursing School Students
Medical School Students
RN's/LPN's
And anyone wanting to help others
To volunteer, visit redcross.org/volunteer.