This Giving Tuesday Share the Gift of Support for the Cascades Region
Story by Hannah C. Wood/Red Cross Cascades Region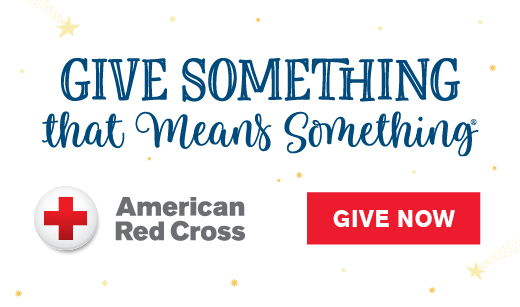 Around Thanksgiving, people tend to feel especially grateful for everything they have and want to give back.
Giving Tuesday on Tuesday, December 3rd is a great time to do that.
Thousands of people across the world benefit from the comfort of Red Cross services during and after a disaster. This Giving Tuesday, you could provide supplies and support for these families and individuals when they are in Red Cross shelters.
In 2019, the Red Cross opened shelters across the country in response to hurricanes, wildfires, earthquakes and more. The Murillo family, who stayed at a Red Cross shelter expressed their appreciation after a recent wildfire disaster.
"We didn't take advantage of Red Cross services last year," said Josiah Murillo. "We moved around a lot, staying with different family and friends as we could. I didn't want to do that again. We are comfortable, we are able to take care of each other and the Red Cross volunteers couldn't be nicer."
On Giving Tuesday, there are many ways to give to the Red Cross. For example, here's what a $50 gift would help provide:
10 warm blankets to help children and families be comfortable in the emergency shelters
Hot food for 5 people to enjoy
A $100 gift would help provide a full day at an emergency shelter for two people including meals, snacks, blankets, cots and hygiene supplies.
Corporations can also give. If your company matches donations, please consider donating through your corporate match program.
Consider supporting the American Red Cross this Giving Tuesday, December 3rd. Your support will benefit those who need comfort and hope in the face of disasters.