Oregon Ducks Dive Into Organizing New Red Cross Club
Story by Hannah C. Wood / Red Cross Cascades Region
Red Cross clubs are an incredible way for high school and college aged individuals to work directly with the Red Cross and its mission. In the Cascades Region, there are a number of clubs that stretch from SW Washington down to Medford.
And now, at the University of Oregon.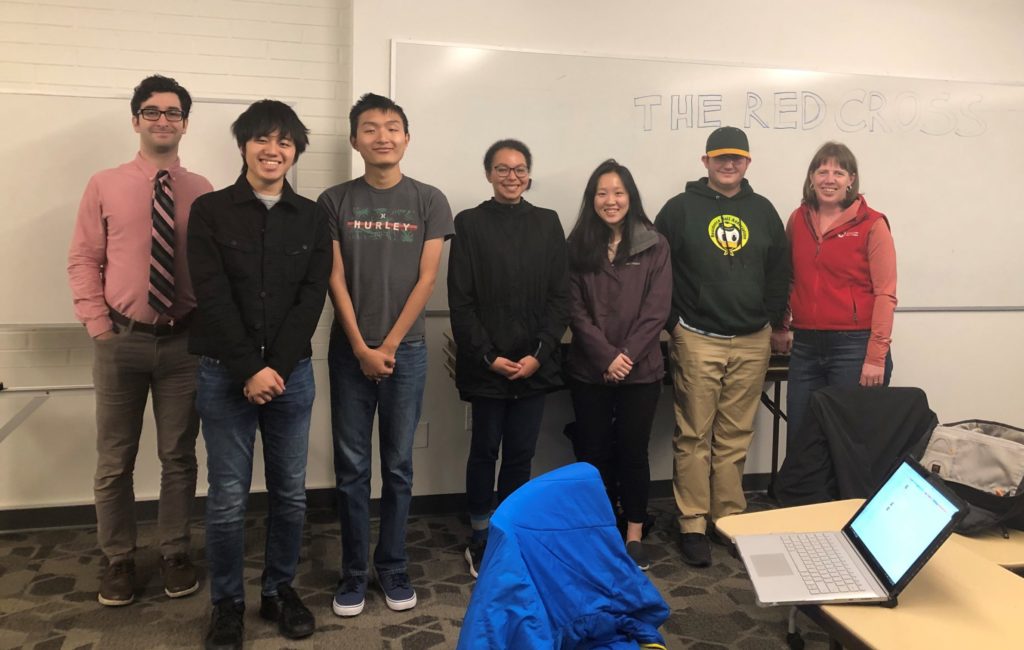 Angela Tan started an American Red Cross Club at the University of Oregon in Eugene and serves as the student leader. Francis Pastorelle is the Assistant Director of Residence Life at University of Oregon at Eugene and is an adviser to the club. We talked to them about what got them interested in the Red Cross and the purpose of the Club.
What got you interested in the Red Cross?

Angela Tan: I first got introduced to the idea of the club through blood drive coordinators of the area who came approached me through the Residence Hall Association (RHA) and talked through the possibility of hosting blood drives on the UO campus. After that initial drive and recruitment process, I became interested in other aspects of what the Red Cross could bring to campus.
Francis Pastorelle: I've been interested in emergency preparedness for a long time. I think it's important that people are personally ready to act in a crisis to protect themselves and the people they love. That feels particularly true on a college campus, where we're working with all kinds of vulnerable populations living in a small community. I also enjoy community service, and being involved in my community. Red Cross gives me the opportunity to engage in both these things!
Why did you want to start a Red Cross club? What are the Club's goals?
Angela Tan: I wanted to help start the club as a way to give students an opportunity to work directly on projects such as blood drives and fire alarm installations, which would directly impact the Eugene community. Another goal of the club was to promote disaster preparedness and bring awareness of that to students on campus.
Francis Pastorelle: I started working with Angela and some of the other student founders last year following my first Cascades Disaster Academy. My personal motivation has been improving student readiness and introducing students to all the ways participation in the Red Cross can give to them as much as they give to it, whether they want to be teachers, doctors, accountants, or anything else. There's something for every student in Red Cross!
What is the size of the group? And, what years are your members?
Francis Pastorelle: Following an excellent recruitment event we hosted in October, we have over 90 members enrolled in our Red Cross at the UO listserv. At the moment, our active membership (folks who attend bi-weekly meetings and events) is closer to 8 or 9. We're looking forward to working on boosting those numbers in 2020!
How visible has the Red Cross been on campus previously?

Angela Tan: To my knowledge not very visible at all! Prior to the drive we first hosted last spring Red Cross had not been on the UO campus in quite some time.
Francis Pastorelle: Not very visible! The Holden Leadership Center maintained an OrgSync page for students who wanted to become involved with Red Cross, but there was no actual campus presence until RHA started hosting Red Cross Blood Drives last spring.
How did all the members come together?

Francis Pastorelle: We started recruiting members with our blood drives, but we've also had a lot of folks join who are involved in Residence Hall Association, thanks to Angela promoting the club and its great opportunities for leadership development.
How do you recruit new members?

Francis Pastorelle: Usually by word of mouth and personal referrals, but we've also advertised our meetings with flyers in the residence halls. In October, we hosted a recruitment event with free boba tea, pizza, and video games. At that event, we had tables representing the different activities our club participates in, so that potential members could see what's involved in joining.
What kinds of activities does the group do?

Francis Pastorelle: The Red Cross does so much, we could really do almost anything with our members! But we're focusing on:
Pillowcase presentations
Blood drives
First aid at football games and sporting events
Sound the Alarm and other large-scale community events
In the future, I'd love to see a group of UO club members join Lane County's Disaster Action Team…but we're not quite there yet.
What's the biggest challenge of operating the club?

Francis Pastorelle: Recruiting students can be challenging, because everyone's already so busy. Volunteering generally is a hard sell, given how little time students have, and how costly college can be. That's why I always emphasize with students what a great experience and resume builder Red Cross is:
Do you want to teach? Pillowcase presentations puts you in classrooms teaching preparedness curriculum.
Do you want to go into medicine? Red Cross can provide you free first aid training and experience working with clients.
Business, or accounting? You can help with logistics or process data and information from deployments. There's truly something for everyone.
Encouraging members to remain involved and building on the momentum can also be a challenge, but so far people seem really excited by the direction we're moving in.
What's the most rewarding aspect of the club?
Francis Pastorelle: When some members of the leadership team attended the Cascade Disaster Academy last year, it was a really amazing experience. We got to bond, learn about each other, and learn more about Red Cross. I was happy to see that their response to the conference was the same as it was for me: getting so excited by how much you can do as a Red Cross volunteer.
Angela Tan: Seeing the members who attend the meetings actively engaged and wanting to improve the student experience!
Anything else you'd like to let people know about the club!
Our meetings are every first and third Tuesday from 6PM-8PM in GSH 117.