Red Cross Aids Hundreds of Oregonians Forced to Flee Wildfires
Story by Patricia Griffiths / Red Cross Cascades
"I'm standing in smoky ash-filled air in Salem now, and it's difficult to breathe even with a mask," said Chad Carter, Red Cross Cascades Regional Communications Director on September 8, 2020, from an American Red Cross temporary evacuation point set up due to several new and existing wildfires that had grown in size just the day before.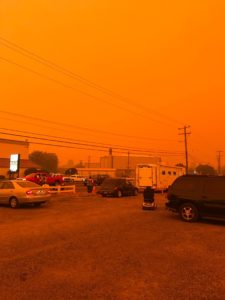 "We got word yesterday, on Labor Day, that help was needed because of these new fires occurring," Carter said. "Some people had very little warning – they were woken up in the middle of the night by neighbors."
Since that day the Red Cross has worked to set up 10 congregate shelters and temporary evacuation points throughout Oregon to support those impacted by the devastating wildfires. Currently, 8 are still operational.
As of Sept. 13th, the Red Cross has provided more than 1,700 total shelter stays, put more than 2,200 people in hotel rooms, provided more than 15,500 meals and made more than 800 Safe & Well registrations to help people connect with loved ones.
In addition, Red Cross volunteers are helping those impacted get relief supplies including prescription medicine and replacement eyeglasses.
Although there are wildfires every year, this year's challenges were compounded by the fact that at least six wildfires are raging simultaneously throughout the state. The wildfires blocked some evacuation routes, forcing some people to detour to evacuation points that were accessible even though other points were closer.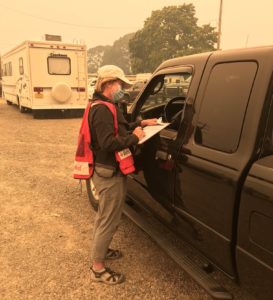 The Red Cross' ability to accomplish this feat quickly is partly due to leveraging resources with volunteers, who make up 90% of the workforce, are trained for disasters, and are often already located in communities that need aid.
"It's really important to have volunteers to call on," said Carter. "It's a testament to the volunteers of the Red Cross who are willing to go at a moment's notice."
As conditions continue to change, it's time for everyone to think about their preparedness plans.
"Now is the time to be prepared, whether you live in a wildfire area or not," said Carter. "Home fires, earthquakes, flooding, disasters don't usually give you a warning. Now is the time to be prepared!"
The Red Cross provides several ways for you to prepare for disasters or home emergencies.