One Week Since the Start of the Historic Oregon Wildfires
Story by Lynette Nyman / Photos by Axl David / Red Cross Cascades
When the call came to evacuate her home in Mollala, Oregon, Kathie Tapia grabbed her pills, pets, and wallet.
"How do you figure out what to take, what to grab when you're told to leave?" she says.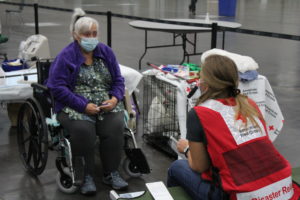 Mostly she was concerned about her housemate, Leah, who was sleeping on a nearby cot while Kathie shared their story about fleeing that terrifying night. That was nearly a week ago.
The one set of clothing, including the purple fleece she's been wearing, is getting old fast.
"Some Red Cross ladies were sweet enough to find me a pair of pants," she says.
Other Red Cross relief workers have fanned out across Oregon to help people displaced by the wildfires and smoke-filled air. As of Sept. 14, 2020, more than 2,500 people continue to rely on the Red Cross for shelter and food relief.
Kathie is among the most vulnerable evacuees, seniors with intensive medical needs, who are staying at the Red Cross shelter hosted at the Oregon Convention Center in Portland. Red Cross nurses and volunteers have come from throughout the west to help provide help and support for those staying in the shelter.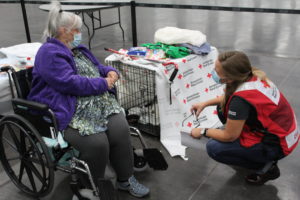 Kathie says she is happy to have met Red Cross volunteers from across the country and to have her two cats nearby, and yet she weeps when she remembers the fire-red sky in the distance on her first evacuation night.
Now, the unknown of what's to come and what's left scares her even more.
"I'm praying everything else will still be there."
Tap here to learn more about the Red Cross response to the wildfires in Oregon, Washington and California.