New Volunteers Help Red Cross Build Wildfire Cleanup Kits, for Those Impacted by Wildfires
Story and photos by Lynette Nyman / Red Cross Cascades Region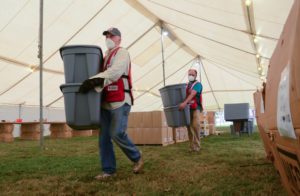 After damaging and historic wildfires swept through Oregon, starting on Labor Day 2020, many friends and neighbors of those impacted were left wondering, 'what can I do?'
The American Red Cross has been providing meals, shelter, relief supplies and more since the very beginning. Every day people have been reaching out asking how they can help and working to support those who may have lost everything.
In Silverton, Oregon, on Monday, Sept. 14, 2020, brand new Red Cross volunteers from local communities came together to make wildfire clean up kits for people to use when they return home. Due to the ongoing smoky air and poor weather, many still don't know the status of their home.
The Red Cross and its volunteers are preparing to help should they find their home damaged or destroyed. The wildfire kits contain relief items like a rake, shovel, work gloves, trash bags, face makes, tarpaulins, and, perhaps most important, a sifter for finding personal items in the ashes.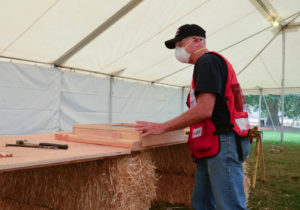 "We live here, and we love our community," says Jeff Davidson, who helped design and build an assembly line that the new volunteers used to quickly and easily frame the sifters.
Referring to themselves as 'just a bunch of retired guys,' their efforts, and those of more than 200 new local volunteers, will make 12,000 kits over the next several days.
Additional Red Cross volunteers will distribute the kits to families throughout the state as their neighborhoods reopen and they're able to return home.
This event was one of many that are happening across the state to support those impacted by the Oregon wildfires. If you would like to help your community sign up to volunteer at redcross.org/volunteer.