When Oregon Wildfires Devastated My State, Six Words Changed Me Forever
Story and photos by Tami Aalto / Red Cross Cascades Region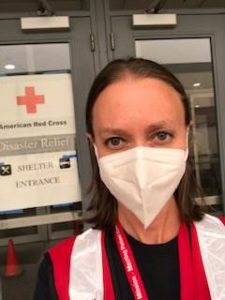 I am a disaster relief worker.
Those are six words I never thought I would say.

I have worked with Red Cross for six years in Blood Services, helping to set up community blood drives throughout Oregon, but I never thought I had it in me to work on a Disaster Relief Operation.
What does it take to move someone from empathy to action?
Apparently, it takes 2020.
With the COVID pandemic, civil unrest, and multiple large-scale disasters hitting our country, this has been a challenging year, like no other, and I needed to find a way to heal my soul.

I began taking online training with Red Cross to respond to a disaster, just two weeks before historical wildfires broke out all across our own state.
At the time, I still didn't know if I had the strength to be part of emergency response, but when our local community became impacted, I knew in my heart that I had to do something to help.
These fires have been devastating and are impacting most of Oregon in some way. My husband is a firefighter, fighting these fires, and working with the relief effort and focusing on helping others has been a much-needed distraction from the sadness, worry, and surreal, while at the same time plunging me right into the middle of it.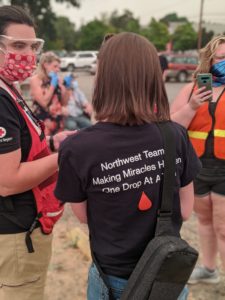 When I reported to the temporary evacuation point in Salem, I had no idea what to expect. I thought I might be working with loading supplies or delivering meals to evacuees.
Instead, I started working directly with evacuees to help find safe shelter, in many cases finding hotel rooms for those who have been displaced from their homes. I have seen a glimpse at the way Red Cross works in partnership with the Office of Emergency Management, local public health authority, public works, the local food share, United Way, medical services, and so many other agencies.

I didn't realize I would be spending so much time talking to evacuees and hearing their stories. It is truly amazing. It is the entire emotional rollercoaster in nearly every conversation.
One moment we might be choking up with sadness, and then we laugh about something small and look for the good.
Amidst this tragedy, there have been so many smiles. And so much giving and gratitude. I have been overwhelmed this week, witnessing the outpouring of community and seeing so many people coming together in a time of need. It has been an amazing experience. One of the hardest things I've ever done, and one of the best. I have discovered I have so much more strength and desire to help people than I ever thought.

This is my "gray sky" family and we will forever be connected by these events.
I am so proud of the relief work that is being done, and the strength of the individuals and families who have lost everything. My heart is with everyone today!

We are the American Red Cross. Sleeves Up. Hearts Open. All In.