Portland Resident Ambre Moton Gives Blood for Life
Story by Julia Green / Red Cross Cascades Region
From a young age, Ambre Moton's upbringing instilled in her the importance of giving back to her community.
Ambre grew up in Hawaii and moved to Iowa for high school, where her parents always emphasized getting involved and staying active in school.
"It was a bit like free child care," laughed Ambre, "but it kept us busy."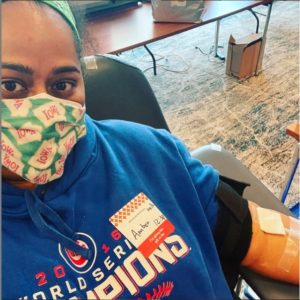 Ambre remembers high school as her first chance to get involved with the Red Cross through student council or athletics sponsored blood drives. Her debate coach in high school was always a huge proponent of donating blood. Ambre remembers looking forward to the opportunity to donate blood herself once she was old enough.
After high school, Ambre went on to run track at Iowa State and then transferred to row at Southern Methodist University. As a college athlete, Ambre continued to donate blood, always checking with her trainer before registering and planning donations around her workout schedule. When her iron levels were too low to donate, Ambre would volunteer at the blood drives instead.
Ambre's interest in blood donations was inspired during time spent with her grandfather who worked as a pathologist. As a young girl, her grandfather would often take her to his lab and talk to her about genetics, including sickle-cell disease.
He explained that because of inherited disorders like sickle-cell disease, there was a need for more ethnic minorities to donate blood. As the biracial daughter of a Black father and a white mother, these particular conversations stuck in Ambre's mind.
Ambre now works as the Creative Services Manager of NBC Sports Northwest in Portland, but previously worked for ESPN for over six years. While at ESPN, Ambre worked with a colleague who she saw as a role model in her life. This woman became sick with a rare form of cancer. Before she died, Ambre's colleague requested that people donate blood and platelets in her memory. Not only does Ambre donate blood regularly, but she donates platelets as much as she can.
Throughout her years of donating, Ambre has inspired those around her to give blood as well. Always the competitive athlete, Ambre and her friends often time themselves to see how long it takes them to get through the donation process. The process is always quick and easy, typically no longer than 45 minutes.
"It makes me feel like a superhero," said Ambre. "I can't fly, but I can give you a pint of the red stuff."
Ambre's mother, a collegiate cross country and track athlete herself, always weighed too little to donate blood. There are other people in Ambre's life who can't donate blood due to various restrictions.
"I've got the blood to give, and I can," stated Ambre. "So, why not?"
Some of Ambre's colleagues at NBC Sports Northwest have joined in on donation efforts in the past. Portland's local news station, KGW, shares a building with NBC Sports NW and hosts a blood drive twice a year. These drives often encourage other colleagues of Ambre's to donate. NBC Sports NW is currentIy supporting the American Red Cross throughout its broadcasts to promote Red Cross Month, and their on-air talent are all wearing Red Cross pins on TV and their recorded podcasts this month.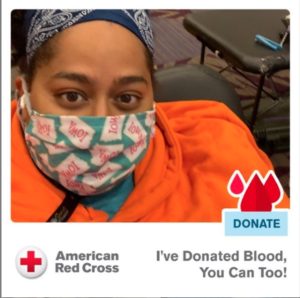 Even through the pandemic, Ambre has continued to donate blood like clockwork. The Red Cross has made the process safe and easy by taking all necessary precautions at donation sites including masks, extra cleaning, social distancing, and spaced out appointments. Ambre's donation schedule rarely upsets her typical week, and she will just make sure to eat extra protein and drink more water on the day she is scheduled to donate.
Ambre encourages anyone nervous about donating to give it a try.
"It's just a tiny pinprick," she said. "The microsecond of discomfort you feel is completely made up for when you get your juice and cookies at the end."
The tech nerd in Ambre also loves to schedule appointments through the Red Cross app. After donating, the app will show your "blood journey," so you can see where your donation is sent and its impact. Overall, Ambre is really impressed with how seamless the donation process is and always enjoys her conversations with the Red Cross volunteers.
Ambre encourages everyone who can donate blood to do it.
"You never know when you're going to need it or your siblings or your parents or someone else you know," she said.
And like Ambre, you may just feel like a superhero afterward.
Learn more about how to donate blood and how to sign-up for a donation appointment at www.redcross.org/give-blood.