Red Cross and St. Charles Health Encourage Blood Donors to Help Fill Current Urgent Need for Blood
Story by Denise Holley/American Red Cross Cascades Region
When it comes to saving a life, nothing is more precious than human blood for patients, hospitals and trauma centers across the country. Now, that blood is hard to come by as the U.S. experiences a surge in demand and a drop-off in blood donations.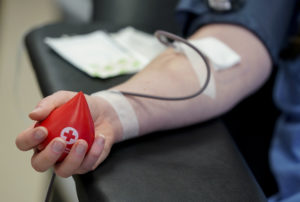 "Usage is up significantly now," said Mabel Adams, supervisor of the blood bank at St. Charles Health System in Central Oregon. "People who delayed care during the pandemic (shutdown) are coming in now, and they may be sicker."
Medical centers need blood for open-heart and transplant surgeries and to replenish the red blood cells of cancer patients who get chemotherapy, Adams said.
"Things are opening up, hospitals are doing more surgeries, and more people are traveling," said Jennifer Shaw, biomed account manager for the Red Cross in Central Oregon. "With more people on the road, we have more trauma."
And just as the need escalates, donations are down, Adams said. Familiar donation sites closed last year during the pandemic, including college campuses, where students rolled up their sleeves to donate. In her more than 40 years working in the blood donation field, Adams said, "We have never seen a blood shortage this intense for this long."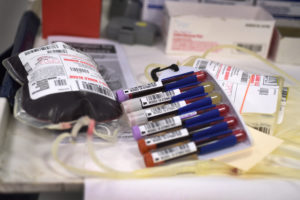 In the late June 2021 historic heatwave, the Red Cross canceled or moved a few of its blood drives in Central Oregon when indoor temperatures at the sites reached into the 70s, Shaw said.
"We ask them to turn the AC down to 67 degrees," she said, because heat can make some people feel faint after donating. But air conditioning systems in older buildings can't cool down enough in triple digit heat.
It's a perfect storm. Adams worries that the low reserves could a leave a small hospital short of pints to treat patients in a vehicle crash or other mass-casualty event, she said.
St. Charles gets its blood from the Portland Red Cross site, which tests the blood it collects from around the Cascades region and then moves it to communities in Oregon and eastern Washington, according to need, Adams said.
"When we're not collecting enough blood for the hospitals, they start postponing elective surgeries," Shaw said.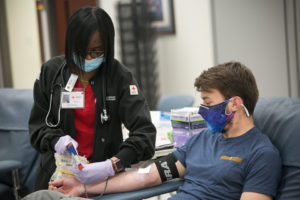 Red cell demand from trauma centers climbed by 10 percent in 2021, compared with 2019, according to a Red Cross statement. "Twenty to 40 percent of trauma deaths that occur after hospital admission involve massive hemorrhaging, and doctors need a secure blood supply to fight the odds."
To meet these needs, the Red Cross has distributed about 75,000 blood products over the last three months, which has significantly decreased its national blood supply, the statement continued. "All blood types are needed, particularly type O, as well as platelets. With less than half a day supply of type O blood in recent weeks, there is an emergency need for type O donors. Blood is perishable and cannot be stockpiled."
If you are healthy, please register to donate in your community. Even if you had COVID-19, you become eligible 14 days after the last symptoms. Visit www.RedCrossBlood.org or call 1-800-RED CROSS (1-800-733-2767)