'Leave now or you'll die,' How the Red Cross is Supporting those Impacted by the Bootleg Fire
Story by Darrell Fuller/Red Cross Cascades Region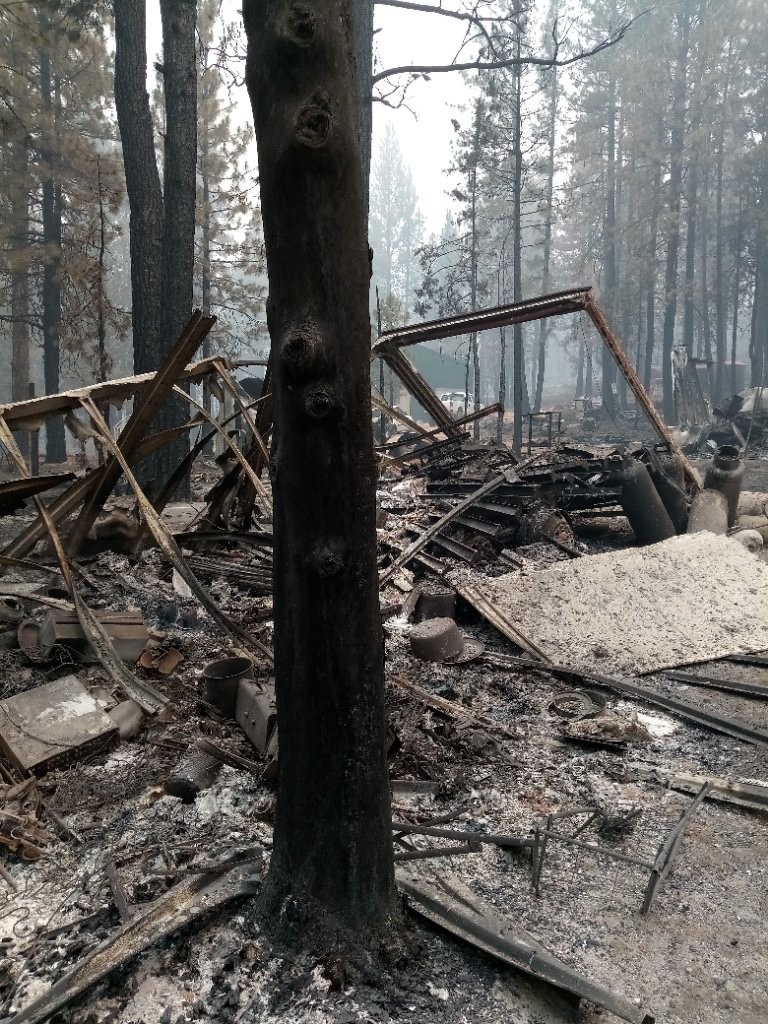 Tim McCarley is a retired sheriff's deputy from Reno.
He, and his bride Dee, moved to Oregon along with her adult son, David, to build their dream retirement home in the scrub brush and lodgepole pines in the high desert east of Klamath Falls. They're the epitome of rugged individualism. They have their own solar power. They have their own water. They're typical of the hearty people who choose to live in rugged rural Oregon.
But even the well prepared couldn't stare down the Bootleg Fire as it came roaring towards their property like a pyroclastic cloud. That was Friday, July 9, 2021, a day now burned into their memory.
"The fire was crowning from treetop to treetop. It wasn't even touching the ground," Tim said. "The trees would just explode one after another and it was coming fast. We could see firenadoes twisting skyward."
He said Sheriff's deputies knocked on their door and said leave now or you'll die.
They didn't argue.
They had packed three trucks and two trailers, and they found three of their four cats (and left food and water for the one left behind).
"I knew the firefighters were coming to try to save our property," Tim said.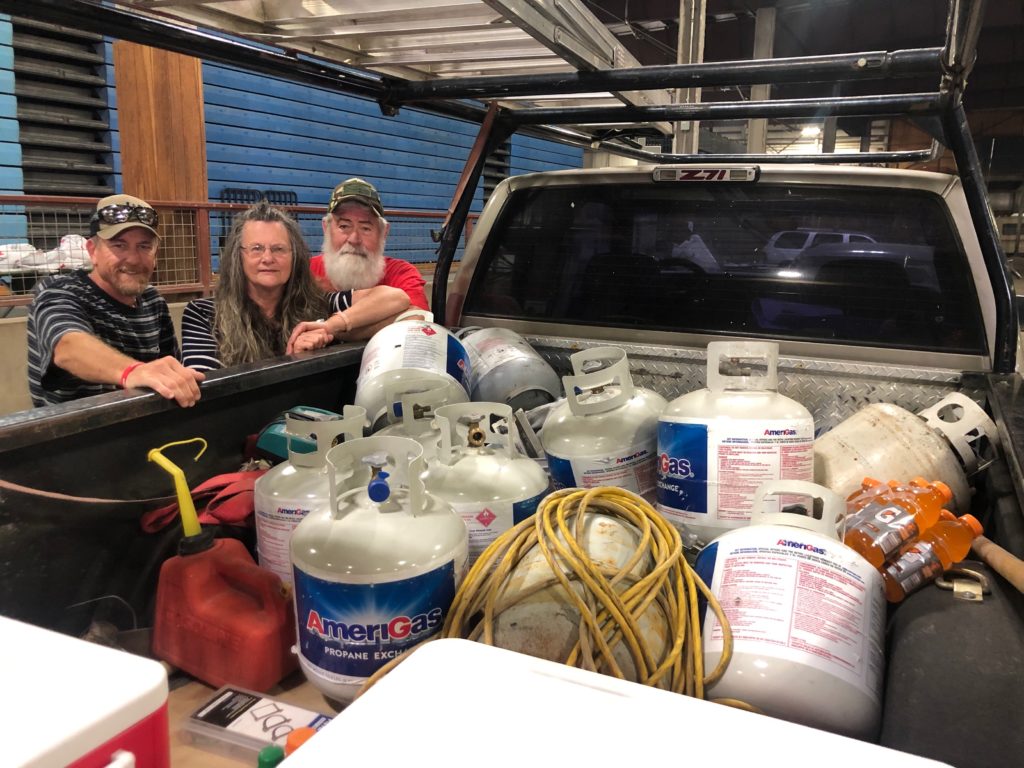 So, the family loaded twelve full five-gallon propane tanks into the bed of his truck. "In hindsight that probably wasn't the smartest thing to do, but I didn't want them to explode and injure or kill any firefighters. They face enough danger without the propane tanks," he said, choking up more than he wanted to let on.
"We got to the Red Cross shelter here at the (Klamath County) fairgrounds about 8 p.m.," Dee recalled. 
"They were ready for us. Showed us where to park. Some CERT people helped us with the cats. We got cold water and a snack," she said. "Everyone has been waiting on us hand and foot ever since. I'm not used to being treated like this. Might not leave," she said, perhaps just half joking.
After The McCarley's were allowed to visit their property on Tuesday. What they saw brought a mix of relief and heartache.
The house they have been building on their own – Tim, Dee, and David – was still standing. The solar power was still working. The fridge was still cold. The water was still running. And, Katy the missing cat was just fine.
But the two large trailers with all their personal possession were "like tin cans thrown into a campfire," Tim described. Nothing left.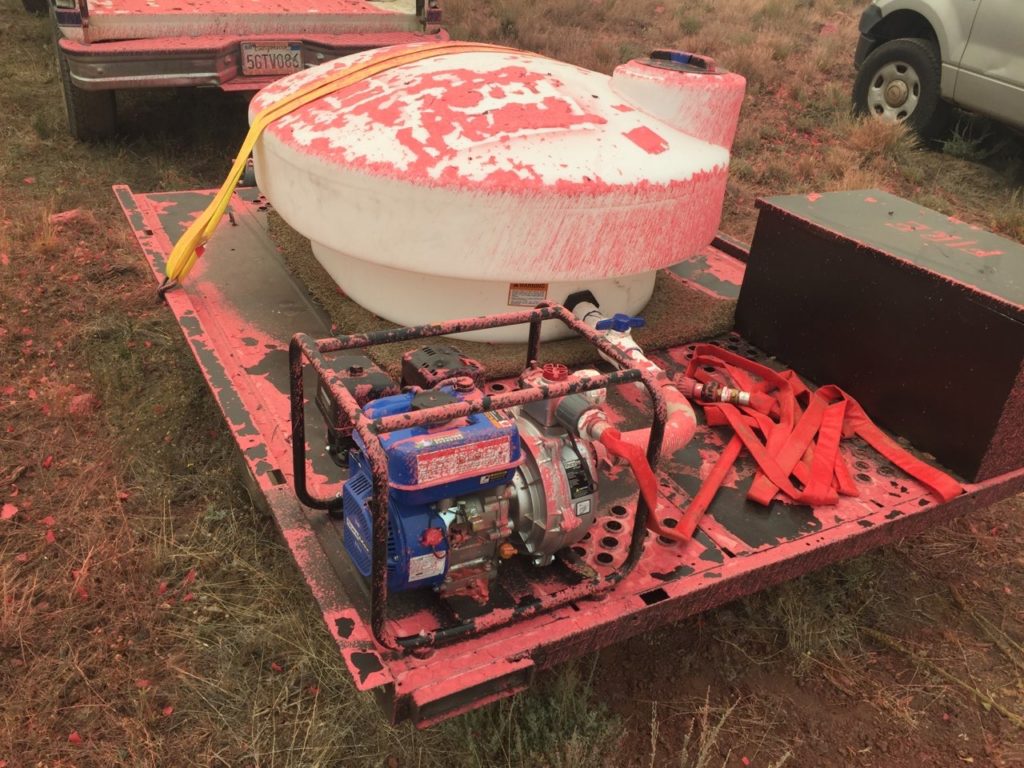 Tim recounted how the firefighters had bombed their water skid and truck with retardant. They're safe. "Even the tires," Dee chimed in. "I had to clean the retardant off our solar panels. Those pilots are a good aim," David said. But the chickens and chicken coop didn't survive. "We could only take so much with us" David said.
"I got all my construction trade tools," David said hopefully. "We can keep building. We'll replant. We'll move forward as soon as they let us back in,"
"My hat's off to the Red Cross," David said while literally doffing his ballcap – fatigue green with an upside-down American flag attached by Velcro to the front. He explains to people nearby that an upside-down flag is a recognized sign that America is in distress. "In this case, it's a sign of distress for my family and our community. But we're coming together here in the shelter. The Red Cross is amazing. I don't know what we would have done without them."