The Importance of an Emergency Kit
Story by Denise Holley / Red Cross Cascades Region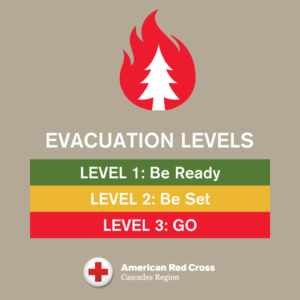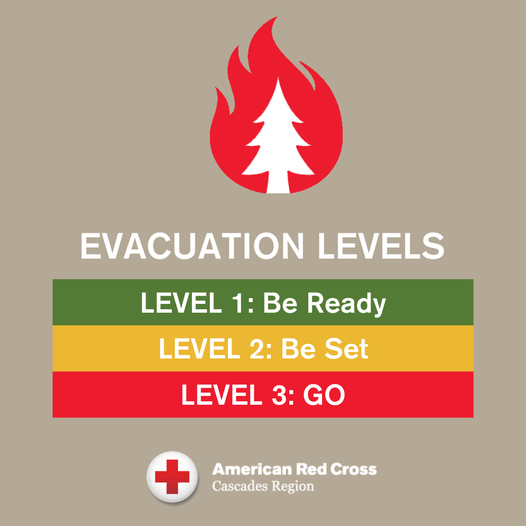 How much warning will you get if you need to evacuate from a wildfire?
Wildfires move quickly and unpredictably, meaning your time to escape can go from minutes to seconds in a blink of an eye.
You may get a Level 1 "Be Ready" or a Level 2 "Be Set" alert from your county emergency notification system, if you signed up.
But if emergency responders pound on your door with a "Go Now" Level 3 notice, what will you grab on the way out?
As fire conditions change so quickly, it's impossible to gather all the essentials in a matter of seconds, when a fire could engulf your neighborhood at a moment's notice.
The best way to survive with your essentials is to prepare ahead of time.
With wildfires burning across the Cascades Region and much of the west, the Red Cross urges everyone to be prepared by putting together a "go bag" with some essentials for the first 72 hours:
Water
Food
Prescription medications
Important documents
Cell phone chargers
Extra cash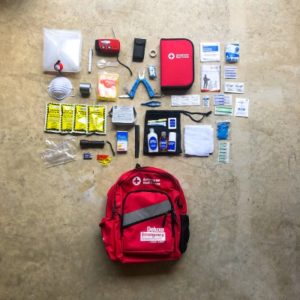 An evacuee from a different kind of disaster – the deep freeze in Texas in February 2021 – thanked Red Cross Cascades Region board member Vicky Wessling for her advice:
"I didn't know what a 'go bag' was until we met you," the woman wrote in an email. The Texas family woke up to temperatures below 20 degrees and no power so they made a reservation to go to a pet-friendly hotel with their dogs.
"We had it all, including a 'go bag,' with all our important documents, and info, pet supplies, meds, flashlights, etc." she wrote. Then the hotel generator failed and the family packed up to go back home. "Luckily, our home power was restored. We couldn't heat it beyond 60 degrees … but we were comfy and well-fed, AND had the 'go bag.' It's become my security blanket."
With several active wildfires already burning throughout our region, it's especially important to stay informed and to be ready. The best way to do that is to –
Build a kit: Consider one for your home and your car
Make a plan: Know how you will evacuate your neighborhood and where you will go if an emergency happens
Stay informed: Tune in to local news and sign up for your local county emergency notification systems
By preparing ahead of time, you will be able to respond quickly and confidently, no matter what sort of emergency comes your way.
For a complete list of items to include in an emergency kit and a guide to help you prepare, visit www.redcross.org/prepareguide or www.redcross.org/wildfire for more information.