Washington State Trooper Provides Roadside Help to Red Cross Volunteer Delivering Lifesaving Blood Products
Story by Harriet Vanderbilt / Red Cross Cascades Region
When Red Cross transportation specialist Holland Golec drove north on I-5 on April 11, 2021, the last thing he expected was a flat tire.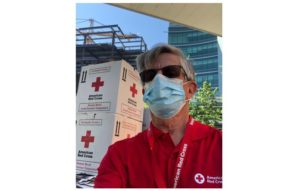 When Washington State Trooper Christopher Stell drove his regular route through Tacoma, Washington that same day, the last thing he expected was spotting a Red Cross vehicle on the roadside.
Golec and Stell were about to spend quality time together – both men working to help and serve others.
Golec initially joined the Red Cross in Sacramento, CA in 2011 until he moved to Portland in 2013. A few years later he missed the calling of helping others and signed up to support the Red Cross once again in the Cascades Region.
That's when he became a blood transportation specialist volunteer. A role that has Golec transport boxes of blood products from Red Cross facilities to locations throughout the region.
On this April trip, he was driving from Portland, Oregon to the Red Cross office in Seattle, where the blood is then sent to local hospitals to provide lifesaving support.
"Red Cross volunteers, Toby and Janet, were to then deliver these products to Harborview Medical Center, Seattle Children's Hospital, and the University of Washington Medical Center," Golec said.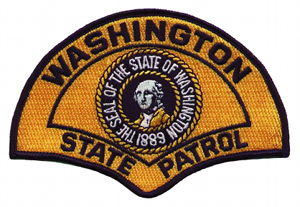 As he was passing through the Tacoma area, Golec became aware that one of the tires was going flat. Fortunately, he was able to safely pull to the right side of the freeway.
"My right rear tire was completely shredded," Golec said. "I made a couple of calls and I let Toby know about the situation. I told him I'd call back when I knew more about the tire change."
"As I was about to call the Red Cross roadside assistance number, Washington State Trooper, Christopher Stell, pulled up and offered his help in changing the tire. Since neither of us knew where the spare tire was located, Stell googled the vehicle and found instructions online. He efficiently changed the tire with his heavy duty jack."
Since driving on a spare is a slow process, Trooper Stell gave Golec some additional city street guidance that would safely get him to the Seattle Red Cross office while avoiding the freeways.
"I updated the Seattle office and my supervisor to tell them that I was on my way to the office to transfer the blood products. It took me over an hour driving city streets instead of the 35 minutes on the freeway."
But with lifesaving blood products on board, it was important to get there safely.
Golec was impressed by the fast and efficient assistance rendered by Trooper Stell.
"He quickly found on his phone the location of my spare tire and was able to retrieve it in no time." Golec went on to praise Stell for his calming influence during the stressful, and potentially dangerous, situation on the freeway.
"With his help, I was able to finish my job safely."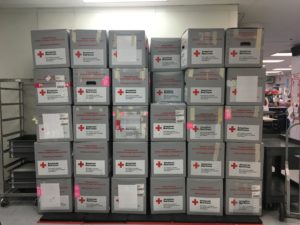 Both Golec and Stell share an innate desire to serve others in need. Both possess the quality of caring and concern for others that is heartfelt and genuine. On that Sunday, two men with different jobs combined their energy to complete their tasks. 
And in this instance, one that has the potential to help save lives.
Transportation Specialists are needed all over the region now more than ever. Please consider volunteering for this critical role within the Red Cross. To learn more, visit www.redcross.org/volunteer.