'I was out like a light': Two Oregonians Awarded Red Cross Lifesaving Awards for their Quick Action
Story by Colleen Hathaway / Red Cross Cascades Region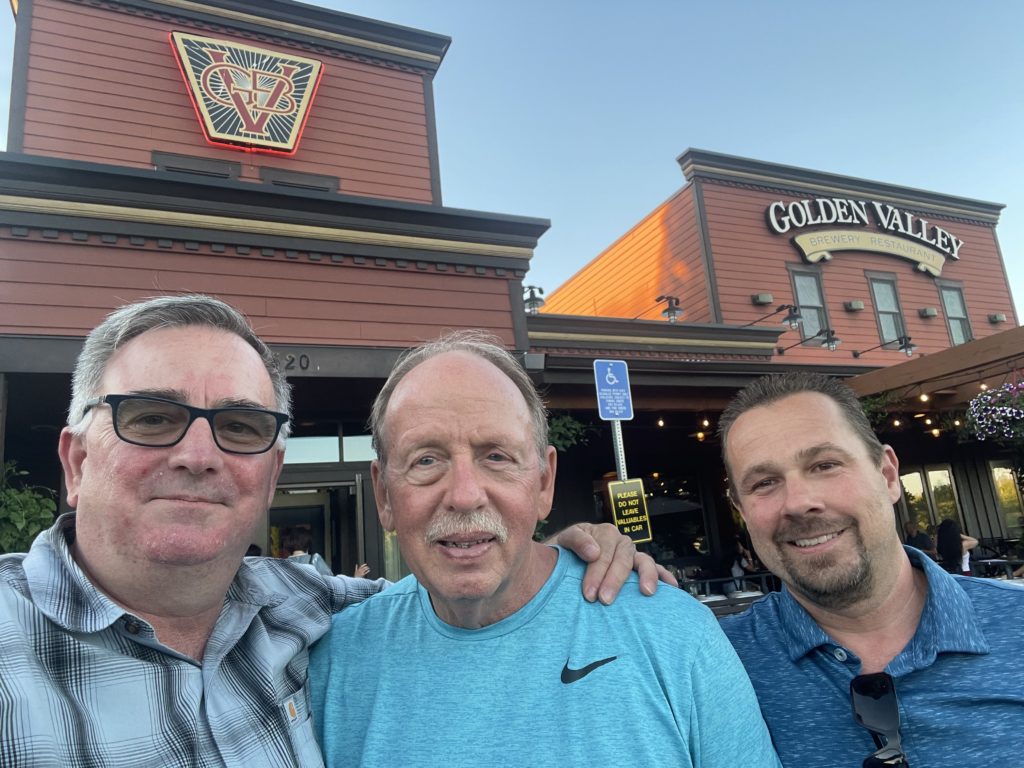 Recently I called Tim Waud, Oregon Masters Swimming Chair and Head Coach of the Oregon City Tankers masters swimming team.
I wanted to know more about the day last year when he helped save a friend from drowning by using his American Red Cross training. When I called Tim, I was watching my son enjoy swimming in our local outdoor pool with his Portland Parks and Recreation swim team, lifeguards nearby and ready to rescue.
Tim was genuinely happy to tell me his story and I quickly realized it was because he is passionate about swimming and water safety. For example, he teaches several adults a year to learn how to swim through Oregon Masters Swimming (April is Adult Learn to Swim Month).
He also wanted to share some lessons about what he learned that day in 2020.
On June 23, 2020, Tim was swimming in open water with friend Jim Teisher at the Clackamas Cove in Oregon City, OR. The Cove is at the confluence of the Clackamas River and the Willamette River and is a popular open water swimming spot.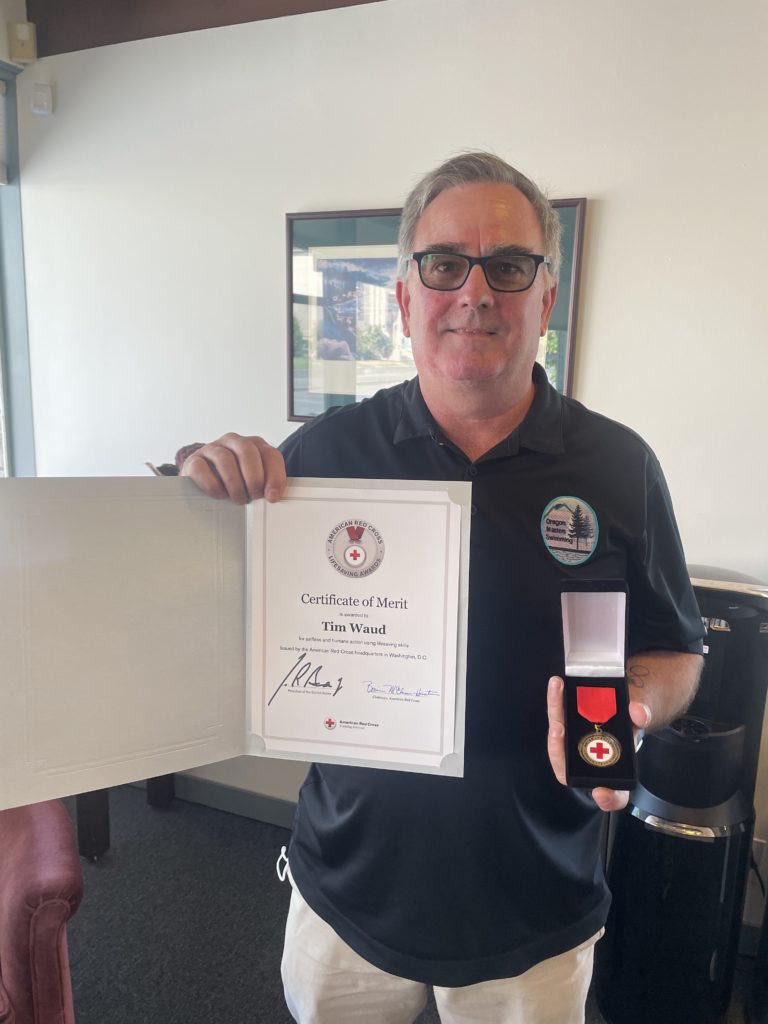 Tim and Jim are both accomplished swimmers. Tim is a USMS National Champion and began coaching USMS in 1992, among many other impressive swimming accomplishments, and Jim is a USMS Certified Level II Coach. Both had swum in the Clackamas Cove before.
It was a beautiful, sunny day, and the men swam for a while before heading to a set of white buoys which are part of a training course used by the Clackamas County Sheriff's Marine Unit. Everything seemed fine until Jim started to slip under the water.
According to Jim Teisher, "On that day I had no warning of what was about to happen. I didn't feel light headed. I didn't have any pains anywhere or feel out of breath…I had a cardiac arrest, which means my heart just stopped. I felt absolutely fine and then I was out like a light."
When Tim realized something was wrong, he sprang into action, grabbing Jim and rolling him onto his back, getting his face out of the water. Then he began swimming quickly to shore, "kicking harder than I ever have in my life."
While towing Jim in, Tim kept checking to see if he had a pulse and was breathing. He got no response and whistled and yelled loudly for someone on the shore to call 911. Once on the shore, Tim began CPR and tried mouth-to-mouth resuscitation. Tim's friend Aaron Hawkins, a fellow Oregon City Tanker who was with the two men at the Cove that day, joined Tim in two-person CPR.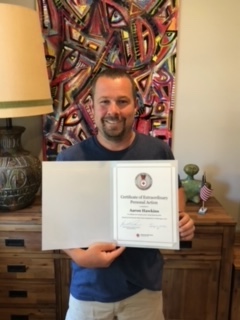 Though tired from swimming, the two men continued compressions on Jim until Emergency Medical Services arrived and took over. EMS was able to get Jim's heart restarted by using an AED (Automated External Defibrillator) and creating an airway.
Without a doubt Tim's training and certification in Lifeguarding/First Aid/CPR/AED and support from Aaron providing CPR helped save Jim's life.
For their roles in helping to save the life of Jim, Tim was awarded the American Red Cross Certificate of Merit and Aaron was awarded the American Red Cross Certificate of Extraordinary Personal Action.
Tim told me that Jim is doing fine these days, swimming again and traveling with his wife, Jeanne. Recently, Tim had dinner with Aaron and Jim's sons.
I asked Tim what he would like people to know about his experience. The first thing he said is that everyone should take a basic life saving skills course. "You never know," he said. He went as far as to say that the experience at Clackamas Cove that day changed the swimming community in Oregon and SW Washington–he and Jim have committed to always swimming with a buddy.
These are some lessons Tim would like you to consider:
Take the time to learn lifesaving skills [Training and certification is simple, fast and easy with the American Red Cross]
Always swim with a buddy
Wear a tow float with a whistle
If possible, have an escort [i.e. boat, kayak, paddleboard to guide the swimmers]
Be aware of your surroundings and stay close to the shoreline
Both Tim and Jim Teisher, the man whose life Tim saved, have written about their experience. You can read their accounts here.