Bootleg Fire Showcases Importance of Collaboration During Disaster Response
If you walk into the Oregon Department of Forestry Incident Management Team headquarters for Zone 1 of the Bootleg Wildfire you will find yourself in a sea of green pants and yellow shirts, most of them stained with ash and sweat from fighting the fire, and leadership team shirts representing the full alphabet of Federal, state and local agencies.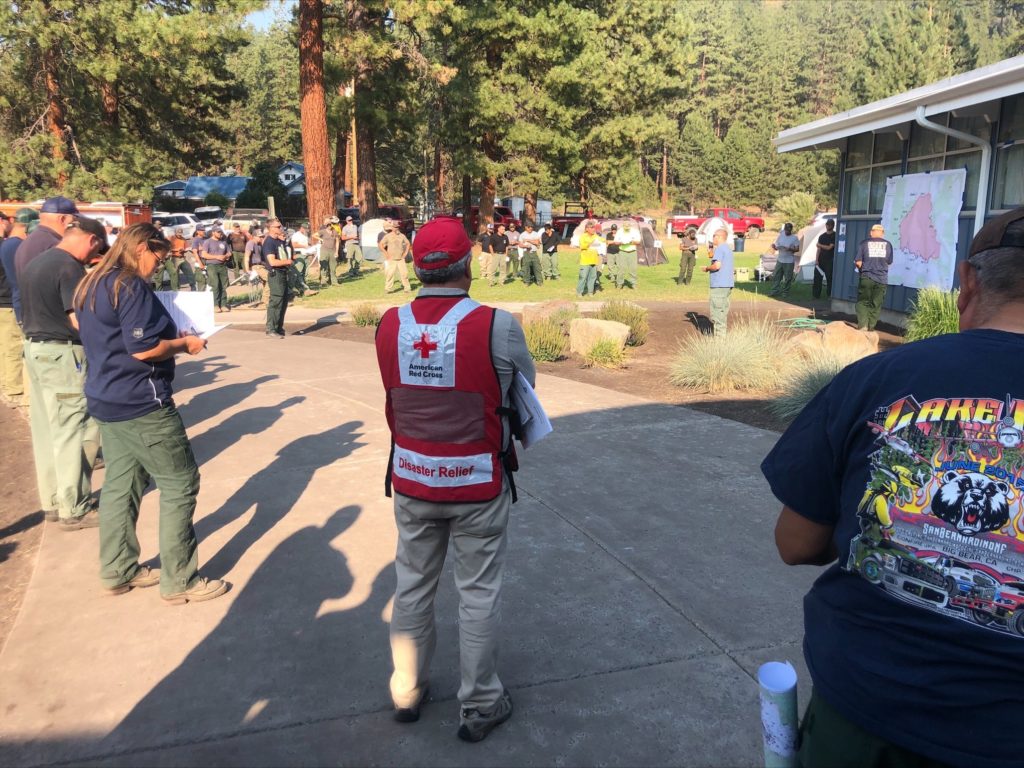 This collaboration effort is all taking place in what would normally be a quiet place in the summer, at Chiloquin High School in Chiloquin, Oregon.
Each day the Incident Command teams hold briefings ranging from shift changes, to tactics, air attacks, fire behavior, meteorology, operations, and planning. There is a nearly audible hum of activity in hallways – designed for schoolkids – but now occupied by an army of men and women walking with a purpose from one room to another.
It might just remind you of a busy subway terminal in New York City during rush hour. And among this fast-paced sea of green and yellow is one bright red vest. A Red Cross vest worn by a seasoned Government Liaison volunteer for the Red Cross embedded in the Incident Command structure. Their job is to glean valuable information about fire activity to assist with the Red Cross Disaster Response, and to report daily to the command structure during the Incident Cooperators meeting. This opens a vital stream of information sharing and collaboratively ensures all agencies and organizations are working toward the common goal.
When you think of nonprofit organizations helping those in times of need, the Red Cross has to be at the top of almost any list. In Oregon, this year, for the Bootleg Fire, Red Cross volunteers are not only working with local, state, tribal, and Federal wildfire responders but they are embedded in the actual Wildfire Incident Command structure.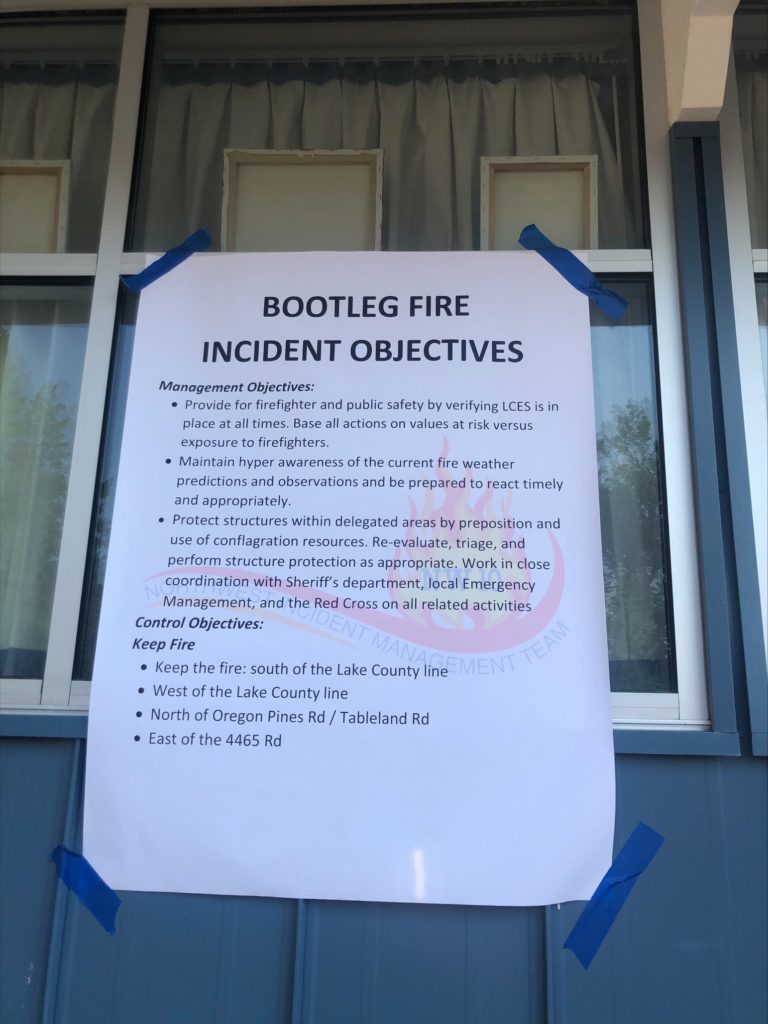 This partnership extends into impacted communities in central southern Oregon. Red Cross Public Affairs volunteers are also traveling alongside fire management teams to communities impacted, or potentially impacted, by the fire to participate in town hall style meetings.
Incident management staff report on fire activity and their efforts to respond. The local Sheriff's office provides updates on current and expected evacuation notices (Level 1 – Get Ready / Level 2 – Get Set / and Level 3 – Go NOW!). Following the evacuation updates, a Red Cross volunteer shares up-to-the-minute information on shelters, how to prepare for evacuations, and the many free services the Red Cross provides to those impacted by natural disasters: shelter, three meals a day (and snacks), emotions support, wildfire clean up kits for those directly impacted by the fire, and caseworkers to help connect those who have suffered losses to recovery services.
As wildfire season is already off to an early and aggressive start the American Red Cross Cascades Region needs volunteers to help. Red Cross volunteers are already providing important aid in dozens of communities. It's critical to have a trained, ready volunteer workforce to make sure we can provide comfort and support to anyone who needs aid after a disaster. 
Shelter volunteers are needed to help support reception, registration, feeding, dormitory, information collection, and other important tasks inside emergency shelters. Also, health professionals are needed to assist with people's health needs in disaster shelters. If you are an RN, LPN, LVN, APRN, NP, EMT, paramedic, MD/DO or PA with a current and unencumbered license, this position could be right for you. 
Sign up at redcross.org/volunteer and get free training now to be a Red Cross volunteer and be ready to help your community.