A Year Later, Historic 2020 Fires Recall Memories of Love and Loss
Story by Harriet Vanderbilt / Red Cross Cascades Region
One year ago, on Sept. 7, 2020, Mother Nature unleashed a catastrophic series of events upon thousands of Oregonians.
First, there was hot, vicious wind, followed by fierce fire that roared down river canyons. Fire climbed pristine forested mountains. Fire gobbled towns. Fire brought unmeasurable loss and unbelievable love.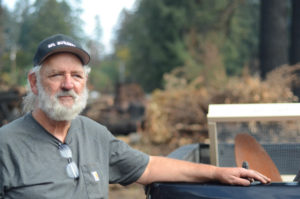 For more than 60 years, Michael Chauran kept daily notes documenting a life lead in the one-bedroom home he shared with his wife in Mehama. The Beachie Creek Fire tore through his home, taking with it tales of his life since the 1950s. Michael also lost a treasured hand-forged ax that was more than just a tool but also a treasured memory of a long-time friend. Michael and his wife didn't save much but were grateful for the help given by Red Cross volunteers.
The Upper McKenzie Community Center in Blue River, one of the most devastated areas, served as a food, clothing and information hub. When evacuees arrived, they received a box that contained canned goods and other dry goods donated by the community. The RV Park was the beginning of the Holiday Farm burn trail. Now, only skeletons remain. Most buildings were gone. Relief workers spent days locating addresses and working to provide resources for the community.
Liz Miller deployed from California to assist in relief efforts in Blue River. One day while volunteering, she noticed an elderly man leaving the parking lot, sad and angry. He had no smartphone, internet or computer. He had no knowledge of them. Liz and mental health nurses showed him how to use the phone to connect to services that could help. Making an impact one person at a time, on this day, one elderly man was given a new phone and a new chance.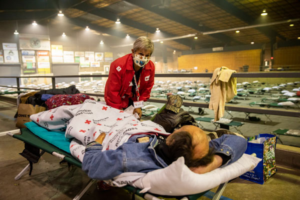 As the fires raged, evacuees from Talent and Phoenix, Oregon poured into the Jackson County Expo Center near Medford. Longtime local Red Cross volunteers Patty and Chuck Albin were there to give them aid and to answer their questions. Chuck manned the front gate while Patty handled the inside along with other volunteers. They worked through difficult times until additional volunteer support from across the country arrived.
Red Cross volunteers Susan and Ellen deployed from the east coast. They worked at the Salem Fairgrounds, one of the largest evacuation locations, checking tents to ask what people need. Evacuees were surprised and delighted to receive such generosity, even though they weren't staying inside the traditional shelter. This generous spirit to Oregonians helps the Red Cross to provide comfort and hope to families.
Volunteer Michael Watkins traveled from Raleigh, North Carolina to help. He manned the door at Columbia Hall at the Salem Fairgrounds. Although he wore a mask due to COVID-19, his smile was evident as he greeted evacuees. "Not only do I open the door, I speak to them and try to put a smile on their face," he shared. A small but appreciated gesture for so many who had been impacted.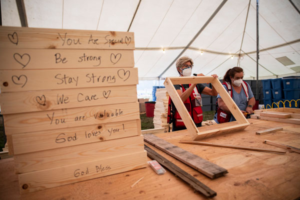 Although Butte Falls was spared disaster, in the aftermath the logging town east of Medford was cut off from supplies. After hearing the call for support, Rachael and Joyce drove their mobile feeding truck from Ohio to Oregon. They set it up alongside local community members helping people gather and restock supplies. They drove thousands of miles, to give a little bit of their time and comfort to others.
One week after these firestorms, brand new Red Cross volunteers, inspired by the spirit of helping others, gathered to make wildfire clean-up kits. The kits contained a rake, shovel, work gloves, and more, plus a sifter. At the impromptu Silverton, Oregon worksite, an assembly line was constructed for volunteers to frame the sifters. More than 200 local volunteers would make 12,000 kits in the next several days.
One year later, these stories of hope, help and kindness resonate just as much as the moment they happened. Strangers helping strangers, connected by the human spirit and generosity of wanting to help someone in their time of need.
Every eight minutes, someone affected by a disaster is helped by donations to the Red Cross. No matter the disaster, big or small, Red Cross volunteers are there to help. If you want to become a helper, visit redcross.org/volunteer and be ready the next time a disaster strikes.