Red Cross Helps Connect Mom with her Deployed Marine Husband After Son's Injury
Story by Denise Holley and Judi Mahoney / Red Cross Cascades Region
When her 11-year-old son fell at school and nearly fractured his cranium in 2012, Tania Vera was desperate to contact her husband.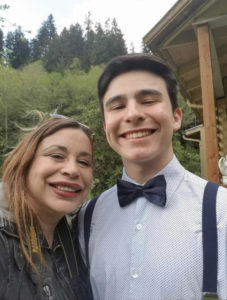 He was a U.S. Marine deployed on the other side of the world in Afghanistan. They sent packages to Dad through the mail, but she had no way to reach him by phone.
Tania, now a resident of Tidewater, Oregon, was living in Murrieta, California, when her son, Rigo, was injured and transported to a trauma center, she said. She speaks primarily Spanish and turned to neighbors and friends to help her through the crisis.
A military friend reached out to the Red Cross for its services and support to military families. Rigo was transferred to Balboa Naval Hospital in San Diego, she said. For two weeks, he lost his ability to talk.
As part of its Service to the Armed Forces, Red Cross volunteers tracked down Rigo's father, an infantry instructor in Afghanistan, and he called the hospital to speak with doctors. Then he called Tania but told her he was unable to get emergency leave to fly home.
"I spoke with my son's dad, thanks to God, and I could tell him how our son was doing," Tania said. Rigo gradually recovered and is doing well now.

In middle school, Rigo dreamed of attending the University of Oregon, Tania said. So he and his mom moved to Tidewater in 2016, where a friend helped them find a house so they could establish residency. When Rigo graduated as an A+ student, the U of O accepted him to its political science program, she said.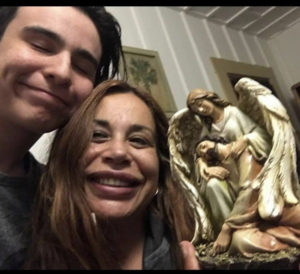 But he changed course when he won an Oregon Promise grant for community college. He decided to study criminal justice at Oregon Coast Community College in Newport and become a police officer because he wants to serve and protect his community, Tania said.
In 2019, Red Cross volunteers installed a smoke detector in Tania's home. She told them how the Red Cross had helped her family in California. Later, she saw those volunteers at the fire department booth at the Waldport Town Market. They asked if she would share her experience with a bilingual volunteer for a Red Cross publication.
"I feel eternally grateful to the Red Cross for connecting me with my son's father," Tania said. "It was a great relief to know that he was aware of what happened with our son. I give thanks to God, my angels, and the Red Cross for so much support during this difficult time in our lives."

"As a military family, we sacrifice as well as living far away from our families," said Tania, whose family lives in Chile. "We are unable to speak with our husbands or have any information about them during deployments or missions. That's why the Red Cross means a lot to us. I invite everybody to support the Red Cross."