Red Cross Experience Provides Inspiration for Volunteer to Become Frontline Wildfire Firefighter
Story by Patricia Griffiths/Red Cross Cascades Region
Soot grinds into eyes. Heat sears through three layers of clothing. The raging fire roars into ears.
Fighting the 220,000-acre Caldor fire in California during the summer of 2021 is much more than an after-college job for Kalen Pippins, a firefighter and Red Cross volunteer for the Cascades Region.
"Your eyes do burn" said Pippins.
"When you get to the fire, you feel the inversion layer. [You are struck by] the smells like burnt wood. You feel it moving, hear the sound of a tree torch that sounds like a river running. Then, you get amped up and say, 'let's go!'"
And go he did, all summer long. But, how Pippins arrived at the Caldor fire is a story in itself.
Pippins' tour as a firefighter started in 2021, but had its roots in 2020 when he was a Public Relations major at the University of Oregon while working 50 hours a week at a local grocery store. He decided to volunteer with the Red Cross, using his communications training to create videos that provided instruction for disaster preparedness.
Then, in the September 2020, wildfires raged across much of Oregon. Pippins jumped in to help. He joined the Red Cross disaster action team on the Holiday Farm Fire at a Red Cross shelter by packing lunches and providing comfort to survivors.
Those survivors inspired him.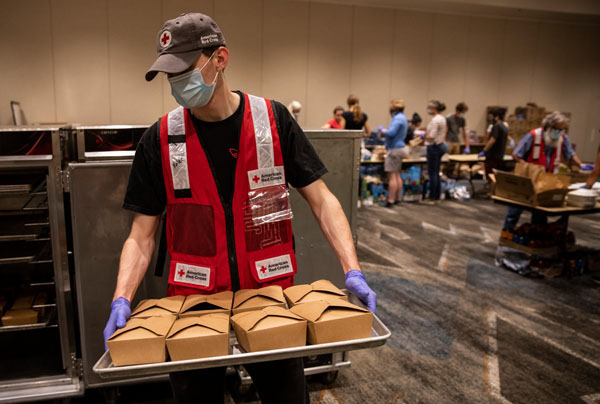 "A lot of people were having the worst days of their lives. They were visibly exhausted physically, mentally, emotionally, but most people were in good spirits," he said. "One lady was an evacuee, but she came in, put gloves on and started putting [lunch] bags together. She said, 'I have hands; I can help!'"
He was also impressed by the other Red Cross workers.
"We put bags together as fast as we could. Everyone has a smile on, and there was chitter-chatter," he said. "When there is an emergency, you expect everyone to run around with their heads cut off, but they were just working together."
While working at the shelter, he observed a group of firefighters arriving at the end of their day, "soot-covered, dirt-faced, so tired their eyes only looked one way," he recalled. That experience set the stage for the next phase in Pippins life.
"I had joined the Red Cross to be near emergencies. They help with housing, feeding, and comforting evacuees," he said.
But, when he saw the firefighters, he thought he could go one step closer to the disasters. That started the life he has led since June 2021.
Pippins life is close to danger, but it has a regular rhythm.
His day starts at 5am, when he and his teammates rise and pack-up within ten minutes. Then, they have hearty breakfasts, and head to the fires. Although it's summer, each fighter wears an undershirt, a long-sleeved button-up shirt, fire-retardant shirt and pants, all topped with hard hats. Each firefighter dons a 45-pound backpack with safety equipment, tools, and food.
"It gets super hot! We sweat a lot. We smell the fire and the body odor," said Pippins. "It sucks but you deal with it."
Then, they go to the fire and fight it in every way they can:
By "cutting lines," removing small trees and brush to deprive the fire of fuel,
By starting small fires that head into the main blaze, so the fire has nowhere to go,
By following "dozer lines," swaths cut by bulldozers, and stomp out "slop-up points," where flareups cross the lines, and
By digging and cutting with hoes, axes, and chainsaws.
This physical exertion consumes about 10,000 calories a day! To stave off dehydration, each firefighter chugs about two gallons of water during the work day. On top of this challenge, they need to be vigilant to be aware of how trees might fall on them or how the fire might get to them, called "situation awareness" in fire fighter jargon. Amazingly, he would fight fires for 12-14 hours a day, leaving the fire sites about 7 to 8pm.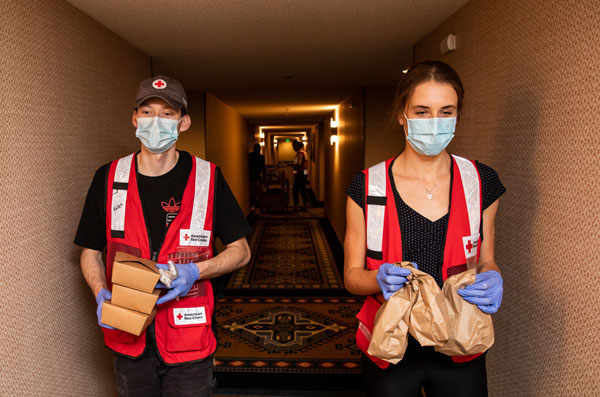 "Every day we're so tired we almost pass out," Pippins said.
After the day's work is over, they have dinner, sharpen their tools for two hours, and sleep.
Pippins has only been home seven days from June to September. He interviewed for this article, then a couple days later, went back out to fires, this time in Montana.
Thankfully, the fire season is drawing to a close in the Northwest. When it does, Pippins is considering continuing his volunteer work with the Red Cross which would bring considerable firsthand experience with disasters and his communications skills to helping people prepare and recover from emergencies.
The Cascades Region is proud and honored to have volunteers like Kalen Pippins and many others responding to disasters big and small, and near and far, supporting communities in their time of need.
Volunteers make up 90% of the Red Cross workforce, with a role that fits almost anyone. We welcome people who would like to explore new ways to help or apply existing skills to help with disasters, as well as donating blood or fund those activities for other people.