A Special Look Inside a Family Assistance Center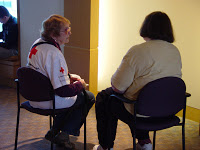 This photo might not look like much, but it's something that you'd never get to see in real life.
During the recent disaster drill out at the Portland Airport, the Red Cross was asked to operate a Family Assistance Center. Basically, if there were a REAL plane crash, a Family Assistance Center would be a place where Red Cross volunteers could provide mental health support — a key function of disaster response and clearly a vital need after such a terrible and shocking accident.
So this photo is an up close look from right inside the drill's Family Assistance Center, a place where no one but those who are directly affected could go. And certainly no one could get as close as this photographer got (thanks Tom!) to an actual mental health counseling visit.
The Red Cross has many roles in a disaster, but did you even know that we have professional psychiatrists and social workers who volunteer just to provide mental health? My best friend's dad is one of them for our chapter — if you have those skills, we'd love to have you as well!