Two More Volunteers Head To Midwest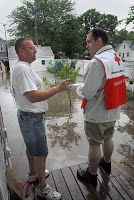 Just a quick update on the number of people we have deployed to help with relief efforts in the Midwest.
Today, two more people left. One is heading to Cedar Falls via Minneapolis, since all the Iowa airports were closed. I've tried to find confirmation of that on the Internet, but no luck. Maybe the airports are now open again, which would be a good sign.
We've also deployed a volunteer to Wisconsin, this time on behalf of the Oregon Mountain River Chapter out in Bend. Here's a little bit about who they are and what they're doing:
David C., Portland — Providing meals, snacks, beverages and water via mobile delivery or at fixed sites like shelters
Tom J., Lyle (WA) — Managing the inventory of materials and supplies required for the Red Cross response to the disaster
Safe travels, David and Tom!