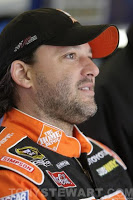 You've seen my previous posts about NASCAR and I assure you that I haven't been won over by the sport just yet…but I will say that these racers seem to be really good guys.
The latest news comes from Tony Stewart, who is donating almost $55,000 (for finishing fifth in the NASCAR Sprint Cup race) to the American Red Cross for flood relief in his hometown of Columbus, Ohio.
From what Stewart says, giving the money away was what inspired him to hit the Top 5. "When it's your own community and your own neighbors, it's good to generate a good amount of winnings for them."
If you're a NASCAR fan, consider showing your support by participating in Red Cross Racing, where you might win an all-expense paid VIP trip for two to the Phoenix race. You can also follow the action on the Red Cross Racing Twitter feed.
And whether you love NASCAR or can't stand it, you can still help support communities in the Midwest by giving to the Disaster Relief Fund via national or our Oregon chapter.