I've Seen Fire and I've Seen Rain…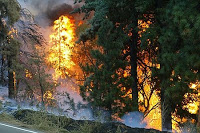 …and they've led to some pretty disasterous situations across the country.
We've got wildfires raging in California and floodwaters bursting through levees along the Mississippi. And though we haven't yet deployed any local volunteers down south, we have sent many to the Midwest — right now we're at a total of 15 folks on national assignments.
New names include:
Val H., Portland — Providing crisis interventions, mental health screening and assessment, emotional care and support, referrals, advocacy, mediation, consultation, psychosocial education and mobilization and psychological triage.
Stephen M., Newberg — Handling community relations; ensuring the interests, needs, concerns and resources of individuals and organizations representing a broad array of groups are represented and acknowledged.
Susan H., Mosier — Providing support to staff members. This includes: lodging, travel arrangements, financial etc.
Iris N., Portland — Obtaining accurate, timely and consistent statistical information regarding service delivery, human and material resources and financial commitments.
Janet B., North Plains — Providing health-related services and securing resources to meet the health needs of people affected by disaster.
If you live in a community that's currently experiencing a natural disaster, please go here for more information about floods (
before
and
after
) and
wildfires
. And don't forget to register yourself or your loved ones on
Safe and Well
.