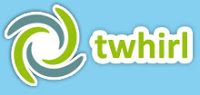 Robin's always looking for ways to make us more efficient when it comes to using social media tools. We've been Twittering for a while now, but it has been a bit of an afterthought — after the blog, after the web, after Flickr — and we'd like to make it a higher priority.
Other chapters across the country Twitter all sorts of important announcements and breaking disaster news and we should be sharing that as well. We're ramping up our efforts by loading Twhirl on our computers…give it a try yourself!
Sign up to follow us on Twitter here.