Making Lemons Into Lemon Aid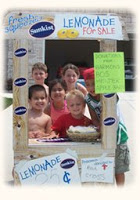 Speaking of things most people do when they're kids, I read a story this morning about Kayla and Mara Arnold, two sisters from Iowa who set up a lemonade stand to raise funds for American Red Cross flood relief efforts in the Midwest.
When the girls heard that the Red Cross disaster relief fund was depleted, they decided to help out. At the end of the day, they had raised $248.
This perfect summertime venture stemmed from Sunkist's "Take A Stand" campaign, which gives kids a free cardboard lemonade stand and the chance to fundraise for their favorite charity.
And even though this was the first time I'd heard of the campaign, you can read about other socially-minded kids who've sold lemonade for the Red Cross right here.