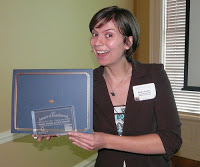 So, if you had been following us on Twitter, you'd have heard the big news already…Cross Blog won another award!
This time, it was a Bronze Beacon award from OCIABC (the Oregon Columbia Association of Business Communicators), meant to honor top local communication projects. The award categories range from writing, design and photography, to print and electronic internal newsletters, public relations campaigns and communication management programs. Members of a sister IABC chapter judge the submissions and they choose to award an "Excellence" or "Merit" to deserving entries.
Naturally, we won a first place Award of Excellence. And it was especially delightful to win after our CEO had just given an inspiring speech about how CEOs generally don't "get" communicators and how more of them should just trust us to do what we were hired to do. Needless to say, there were a lot of nodding heads in the audience.
Robin and I feel very fortunate that we have a leader who might not know much about Twitter or Flickr, but who trusts that if WE think they're important, they really are. And if we say it's important to post on the blog often; to be informal, personal and a little irreverant; and to get him blogging as well, he's totally game.
Our blog wouldn't be a success if it weren't for Thomas' support and willingness to let us communicate how we want, when we want. For that, we thank him. And for all your support in helping the blog continue to grow and get better and better each day, we thank YOU!