Biffle's Captors Demand More Blood Donors!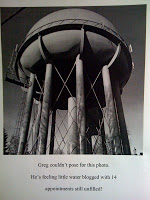 Just before Lise left work today she found yet another ransom note taped to her door! It says "Greg couldn't pose for this photo. He's feeling a little water blogged with 14 appointments still unfilled!" 
To me this means, three things:
2. We've already recruited 36 out our goal of 50 blood donors.
(I'm a glass-half-full kind of thinker.)
3.
You, dear reader, need to sign up for tomorrow's blood drive!
CALL 503-528-5608
. Lise and I have appointments to donate together at 10:45am. Come hang out with us and help save a life! (And, lest you forget, help
save Greg Biffle!!!
)
Catch up on the Biffle Kidnapping saga here.
Learn about Greg Biffle and Red Cross Racing here.
Follow them on Twitter here.