Giving Blood For The First Time In 8 Years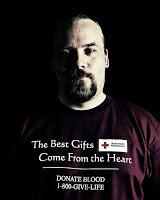 Today at around 10:45 a.m., I'll donate blood for the first time in more than eight years.
If you've read my story, you already know about the problems I've had in the past and why I've been hesitant to give blood again…even though I work for the Red Cross. But I received a very nice e-mail that made me feel the slightest bit more comfortable:
I saw your entry on the blog about donating – good for you for giving it another try! We sure do need the Type O. I work in Hospital Services – we're the dept that ships the blood to our hospital customers. We've been shorting orders for Type O all summer long. We're meeting "needs" but not "wants" – it's a continuous struggle.

So, if I can offer any suggestion for donating again, it would be make sure you are well hydrated – this plumps your veins up. And you could mention to your Health Historian, or the Sup in Charge that you've had trouble in the past giving full units, so you'd like them to send you to their best phlebotomist. (Here are a few more tips for donating)

If you're donating at the drive [today], be on the look out for my famous savory breadsticks when you get to canteen. I can no longer donate myself, so I make treats whenever we have this drive here.
So if the warm, fuzzy feeling you get from saving a life isn't enough, you get Eileen's special "friends and family" only breadsticks. Is that not enough temptation? And if you want a little more motivation, I just got an e-mail reminder that the scorching temperatures have put Blood Services behind on collections. There are still 10 spots available for today's drive — call 503-529-5608.
One last remark: In looking at the poll we posted last week, the blood donors outweigh those who don't give. But I'm curious why those folks don't donate. I'd like to think they're just not eligible, but if you don't give and don't mind sharing your reasons in the comments, maybe we can figure out how to ease your fears just like Eileen did for me. If not, there are always other ways to help!
Photo courtesy of Cayusa (who has some terrific blood donation photos on his Flickr!)