On Making New (Blog) Friends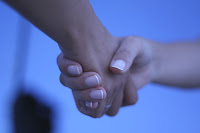 Robin and I do our very best to be good citizens in the blogosphere.
For us, this means letting people know when we blog about them or their work — sending them links to the post along with a little note of explanation. Most of the time, we get a response back, whether it's a basic "Thanks!" or full-on Cross Blog fan mail.
And from simple correspondance, a mutual appreciation society is born. It's how we met NPR contributor John Solomon and Time Magazine reporter Amanda Ripley. And Joe Gibson, the 16-year-old blood donor. And now, it's how we met crisis communications expert Jonathan Bernstein, who I blogged about earlier this week.
When I told a friend that Jonathan had subsequently blogged about us (see it here!), she said, "So this guy is basically who you want to be when you grow up?" And she's right. I love crisis communications, which is part of why I enjoy the excitement — both good and bad — that we get here at the Red Cross.
So late on a Friday afternoon, here's to being a good citizen and making new friends. Cheers!
Photo courtesy of oooh.oooh