Have You Read The One Minute Update?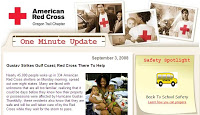 If you like the blog, you should really be reading our e-newsletter — One Minute Update.
As you might have guessed from the name, it's short and sweet, and Robin and I do our best to keep the tone as light and informal as what you get right here. This month, for example, I compared our Clara Barton Challenge to gambling in Las Vegas. If the connection isn't obvious already, you should probably check out the current issue.
Anyway, we encourage you to sign up. We won't spam you (too much) and we'll try to keep things fun and fresh. We don't want to put all this effort into it without you reading!
P.S. We got a very nice comment today from Winnie, an East Coast ARC volunteer: "I love this newsletter! Val's story brought tears to my eyes." Really, don't you want to be reading?