Tsunami Drill: We Survived!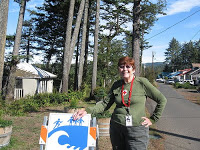 By all accounts, yesterday's tsunami drill went well. You'll be able to read all about it in next week's Tillamook Headlight Herald — we'll post it when we see it.
Right now, however, you can see drill photos on our Flickr, taken by the lovely volunteer Donna Winkler. While I can't say exactly what these Red Crossers are doing in each photo, I definitely see Together We Prepare Oregon booklets being handed out. The books, of course, contain lots of helpful tsunami tips.
I'm sure our volunteers did a terrific job representing the Red Cross…and enjoying some spectacular fall sunshine! Did you participate in the drill? If so, how do you think it went?