Need An (Almost) New Land Rover?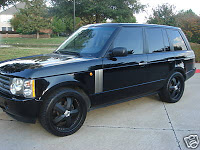 Now that Veronica Mars isn't on the CW, I rarely flip to that network. I hope that excuses the fact that I know nothing of the show Supernatural and Jensen Ackles, who stars as Dean Winchester on the series.
Jensen, however, knows all about the Red Cross and the work that we do. And to support our cause, he's giving fans the opportunity to bid on his 2004 black Land Rover HSE on eBay, with the proceeds going to us.
According to The Official Jensen Ackles Newsletter, Ackles feels that this vehicle would be best taken care of by one of his fans. The winning bidder will also receive a personalized autographed headshot.
Interested in bidding and helping support the Red Cross? Check out the online auction here!