Live-Tweeting An Apartment Fire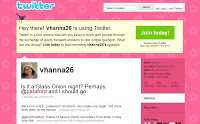 Abi Weaver, Red Cross communicator extraordinaire in Tampa Bay, sent Robin a message this morning about vhanna26, a woman who live-tweeted a fire in her apartment building this morning.
The Red Cross was there, of course, but it's interesting to get an "on the ground" perspective from someone who was so close to the scene.
More interesting is the ongoing use of Twitter to communicate real-time about a disaster and "breaking news." The Red Cross is starting to use Twitter in this manner; it's great to see "real" people doing the same.
If you want to follow us on Twitter, you can do so here. You can also follow our friends at the Red Cross NHQ here.