Fun, Games and Preparedness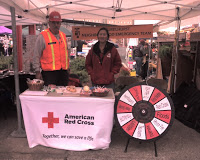 Everyone loves a good farmer's market, and members of the Portland NET program and the Red Cross are no different.
Nationwide, neighborhood teams are organizing themselves to respond to disaster under the title of a Community Emergency Response Team or CERT. Here in Portland they're called the Neighborhood Emergency Team or NET, and they're prepared for hazards that may occur in our area.
NET members are trained in disaster response skills, such as fire safety, search and rescue, and disaster medical capabilities. They help in the workplace or neighborhood during an event when professional responders aren't available immediately, and, according to the
Portland NET webpage
,
"80% of all rescues are preformed by untrained citizens." This makes it clear how important these responders are to our community.
Looking at the goals of NET and the Red Cross, it seems natural that our efforts and message might overlap. On November 1 at the Hollywood Farmer's Market that very thing happened. Oregon Trail Chapter volunteers and NET members worked together in offering both NET training and education and Red Cross disaster training. Jeff Cohen- a NET member, Mac McCawley- a Red Cross volunteer as well as a NET member, Ed Rentz- also a dual representative, and myself rocked-out in a tent at the market on the chilly and rain-swept day following Halloween.
Attendees at the market stopped by our booth to learn what it means to become a NET member or Red Cross disaster volunteer, when and how to register for training, picked up the
Together We Prepare booklet
, and answered trivia questions to win disaster preparedness prizes. Amidst the education and outreach, music from the market along with the aroma the of coffee and hot dogs drifted to our tent.
It was all fun and games for the NET and Red Cross on November 1, but together we were able to get the word out on disaster preparedness.