Your Job Is Big, Your Cause Is Just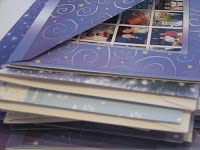 One thing that we don't share enough on the blog are the little hand-written notes that we get from donors. Julie shared one with me today that I thought was worth passing along.
Happy holidays! Enclosed is my small, once a year, donation. Your job is big, your cause is just. During World War II, I consumed your coffee and donuts. God bless.
Short and sweet, but what nice holidays wishes, don't you think? No gift that we receive is ever too small to make a difference. Even $5 (and we got a couple of those today as well) helps.
But the best news is that you don't have to do it the old-fashioned way. If you want to send holiday wishes our way, you can do it 24/7 online.
Photo courtesy of eszter