Wearable Shelter? Or Parka?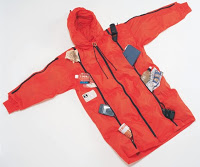 As promised, here's the first totally awesome item from MOMA's SAFE: Design Takes On Risk exhibit — the Final Home 44-pocket parka.
Designed as a wearable shelter, this parka features 44 pockets that can store food, medicine and tools. If the weather gets cold, the pockets can be stuffed with newspaper or any other insulating materials, just as you might insulate the areas between the interior and exterior walls of a house. The parka can be made to suit any body type by simply stuffing certain pockets with extra materials to provide a tighter fit.
If that weren't enough, there's also a Final Home teddy bear that can provide companionship as well as insulation!