All The News That's Fit To Type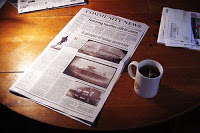 With a short week at work, it seems imperative to pack a whole lot of great info into the next three days of blogging.
With that, I give you some quick updates:
1. Remember Robin, the New Mexican chef? Not only was the meal for her co-workers delicious, she managed to raise a whopping $362 for the Red Cross. Having cooking skills clearly pays off!
2. Did you see the news about the potential for a "catastrophic" U.S. quake? Nope, it wouldn't be here in Oregon, but rather in the southern and midwestern United States. Read all about it right here and then get some earthquake preparedness tips here.
3. If you were excited about the Thanksgiving Day Blood Drive here in Portland, the first one ever is happening down in Salem. Donor gifts are the same, regardless of location. The drive is on Thursday, Nov. 27 from 7:30 a.m to 12:30 p.m. at 475 Cottage Street NE, Suite 110 in Salem.
To reserve your appointment time, please call 503-585-5416.
Photo courtesy of Matt Callow