Artificial Trees: Are They Flammable?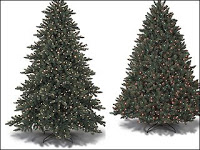 After seeing this post, my friend Roger was inspired to ask about the safety of artificial Christmas trees. Rather than respond to him in the comments, I figured others might want to know the answer as well.
According to Good Housekeeping's research, all the artificial trees they tested passed a flammability test. You can check out a news story that KOMO in Seattle did on the topic right here.
While they may not be particularly flammable, it doesn't mean you can throw all caution to the wind. Here are a few tips to keep in mind:
Look for the label, "Fire Resistant," when purchasing an artificial tree. This label does not mean the tree won't catch fire, but that it will resist burning and should extinguish quickly.
Use only lights that have been tested for safety by a recognized testing laboratory, such as Underwriters Laboratories (UL).
Use only non-combustible or flame-resistant materials to trim a tree. Choose tinsel or artificial icicles of plastic or nonleaded metals. Leaded materials are hazardous if swallowed by children.
Check lights for broken or cracked sockets, frayed or bare wires, or loose connections. Replace or repair any damaged sets.
Turn off all lights on trees and decorations when you go to bed or leave the house. Lights could short and start a fire.
Wash or wipe down your artificial tree with a cleaner, then wrap it in plastic before storing it. Dust increases flammability.
Don't touch decorative lights or electric decorations when your hands are wet.
Don't place Christmas trees near heat vents, heaters or fireplaces.