Disaster Alert: Northwest Floods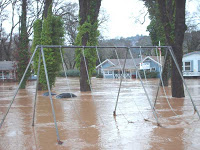 I just got the following note in my e-mail and thought it was worth sharing:
Lise –Right now is the worst part for the flood victims in Washington and Oregon — the days just after the disaster.
Flooding forced people from their homes, destroyed buildings, ruined personal belongings and upended families' lives. As the flood waters recede, hope and dreams feel like they've drifted away.
Your American Red Cross is on the scene providing relief to the victims. Volunteers and employees have opened shelters, are providing food and disaster relief kits, and, most importantly, are serving as a shoulder to lean on.
We're not going to leave the Northwest flood victims behind. But we need your help to do the job. Help disaster victims with a gift to the Disaster Relief Fund today.
american.redcross.org/floodrelief
Your gift to the Disaster Relief Fund provides vital supplies and services like food, warm shelter and mental health counseling that Northwest flood victims need.
Lives can change forever from a disaster like the Northwest floods but with your help, they won't have to. Whatever amount you can afford to give today will help change lives.
Best,
Joe Becker
Senior Vice President, Disaster Services
American Red Cross
Photo courtesy of KGW.com