Not Single? Try Couples CPR On V-Day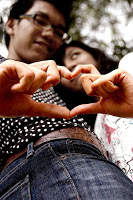 You really want to attend Singles CPR but, alas, your significant other thinks that's a really bad idea. They should trust you, right? No?
For the sake of your relationship, I thought I'd point out that Forest Grove Fire & Rescue is holding a Couples CPR class this Valentine's Day.
Here are the details:
Date: Saturday, February 14
Time: 10:00 am until 12:00 pm
Location: Forest Grove Fire Station, 1919 Ash St.
Space is limited to the first ten couples who call 503.992.3240.
Photo courtesy of neys