Wishing On A Star At Westminster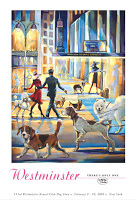 Here's a connection I never thought I'd get to share…the American Red Cross (and our very own Oregon Trail Chapter) will be represented at The 133rd Westminster Kennel Club Dog Show!
That's right — our CFO/COO Karen Rassmussen is in New York for the big event, where she'll be showing off her pug in the Toy Group. Her name? LNL's Wishing On A Star, though I've heard she goes by Dolly for short.
If you want to watch Dolly and root for the Red Cross on the small screen, tune in to the USA Network tomorrow night at 8 p.m. Keep your fingers crossed for her to take home Best in Show…or at least Best of Breed!